It's been three years since we launched our Ethical Investment Plans, allowing our customers to put their money to work while staying true to their values. With this milestone under our belt, we can proudly deliver our three-year performance results for all five investment styles across our Ethical Plans.
Please note that the figures in this blog are based on past performance and is not a reliable indicator of future results.
Our three-year Ethical performance
In the graph below, you can see the simulated* performance of our Ethical Plans (after fees) since they launched. Please note that we periodically update our performance numbers on our 'How we invest' page.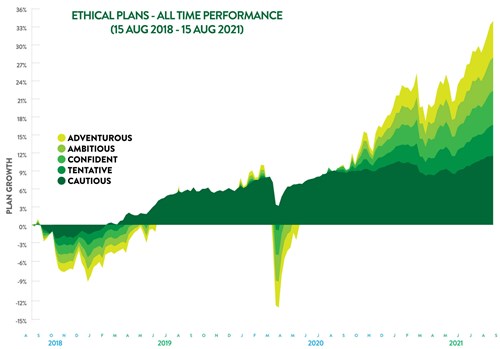 With investing, there's always a measure of risk involved meaning you may get back less than you put in, and as you can see from the last three years, our Ethical Investments had several periods of ups and downs. However, we believe in always taking a long-term approach, and are delighted to announce that our top-performing Plan (Ethical Adventurous) has enjoyed an overall performance of 34.81% after its first three years.
Performance breakdown
The simulated* performance for each Ethical investment style, from Cautious to Adventurous, between August 2018 and August 2021, after all fees have been taken, is as follows.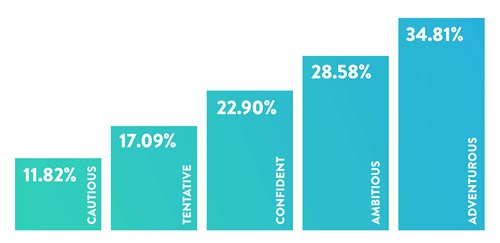 If you're interested in what major events have affected the markets since 2016, we've got the perfect blog for you: 5 years in the markets 2016 - 2021.
How has Ethical investing changed over the last three years?
When we launched our Ethical investments, the conversation was starting to change from people asking "Why" to people stating, "Why not?"[1]. People and institutions realised the impact that their money could have and the need for action – on topics like climate change - moved ethical investing out of a niche corner and into its rightful limelight.
This change brought with it an accelerated adoption of broader ethical investment techniques (above and beyond negative screening) which involve also looking at the business' intent and future plans. These seemingly small changes are significant when it comes to enhancing returns and strengthening risk management while ensuring that the overall strategy continues to align with the investor's priorities.
Over the last three years, this greater demand for Ethical investments has meant that significantly more Ethical funds have become available to us. This increased choice not only allows us to access more diversity for your Plans but has increased competition, allowing us to keep costs low as fund providers jockey for position.
And it's not just more ethical funds available, it's more money being invested in them! In 2016, around 28% of all assets under management (AUM) were held in sustainable investments. By the end of 2020, this figure had risen to approximately 36% of global AUM.[2]
For many people, 2020-2021 has been a very difficult period, but if there was one silver lining it was that it gave ethical investing a firm push in the right direction. We saw it gain popularity globally, and within our Plan uptake, with more Ethical customers than ever before joining Wealthify.
Can Ethical Investing create real change?
Yes. There's overwhelming evidence to show that sustainable investing can create considerable change. For example, increased transparency is essential for understanding how a company is approaching sustainability and is demanded by most investors. In 2015, only three companies reported on these standards – in 2021 this figure has increased to 881 – that's nearly a 30,000% increase in just six years albeit starting from a very low bar.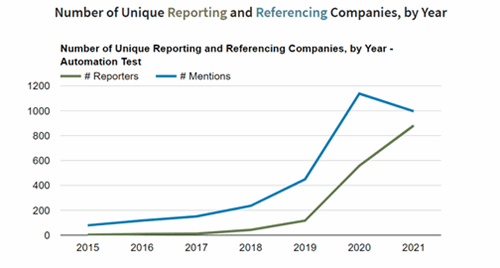 Source: https://www.sasb.org/about/global-use/
But ethical investing can also change companies that you may not expect. For example, ExxonMobil – a large oil and gas company – has had two directors elected to their board of directors with a focus on climate change, thanks to a small hedge fund.[3] They used their shareholder power, while inspiring a larger group to band together, to deliver change in a company that they felt was being too slow to act. It required a long legal battle but have now won perhaps the biggest boardroom contest at a major oil company so far - with climate change being the central issue. This is a prime example of how shareholders can use their power and influence to drive meaningful change and invest in companies looking to do good in the future but wouldn't be classed as an ethical company right now.
So, what does the future hold?
At Wealthify, our Ethical Plans currently focus strongly on negative screening – which removes any investments and companies that don't meet our ethical criteria. This policy currently excludes weapons, tobacco, adult entertainment, and gambling. We're very active in ensuring that all our investments fall within our acceptance criteria and require all our investment managers sign a declaration stating they will adhere to these guidelines.
With sustainable investing, it's not so much about excluding companies, as it is finding those that are striving to improve their practices and policies.
This is one approach we are currently exploring, alongside the possibility of a comprehensive fossil fuel exclusion. Despite the latter not being in place just yet, our Plans hold very limited exposure to fossil fuels. This is an area that, as a team we are particularly enthusiastic, and will keep you updated on, as more and more investment options make this transition. If you'd like to understand more about the difference between ethical and sustainable investing, check out our blog on this topic: https://www.wealthify.com/blog/ethical-vs-sustainable-investing-what-is-the-difference
The Wealthify approach
Our Investment Team are constantly at work to ensure your Plan has the best chance of achieving its goal. Our multi-layered approach to building your Plan, aims to optimize your Plans long-term performance through rigorous due diligence at every level. In this way, we carefully select the 'good' investments, while discarding the 'bad' investments. No stone is left unturned in our pursuit of only the best-in-class investments for your Plan.
We've done this for the last three years and will continue to do everything we can to make your money work as hard for you as you do. We're always ready to act in your best interests and make changes to your Plan, if needed, to protect your money and provide you with higher returns.
We'll keep in touch about any changes we make to your investment mix, and you can check how your Plan is doing, day or night, with the app or on the website. If you have any questions about Plan(s) or investing in general, don't hesitate to contact us on 0800 802 1800 or via Live Chat.
*'Simulated' returns are so named as they are based on the performance of a model which identically mirrors the decisions, we take on customers' Plans. It is based on Plan sizes greater than £100 and after all fees, including fund charges and our 0.6% management fee have been taken. Individual customer returns may deviate slightly from the model figures, particularly those customers who may have added to or withdrawn from their Plans throughout the year.
Past performance is not a reliable indicator of future results.
The tax treatment depends on your individual circumstances and may be subject to change in the future.
Please remember the value of your investments can go down as well as up, and you could get back less than invested.
https://www.mckinsey.com/industries/private-equity-and-principal-investors/our-insights/from-why-to-why-not-sustainable-investing-as-the-new-normal
http://www.gsi-alliance.org/wp-content/uploads/2021/07/GSIR-2020.pdf
https://www.reuters.com/business/sustainable-business/shareholder-activism-reaches-milestone-exxon-board-vote-nears-end-2021-05-26/