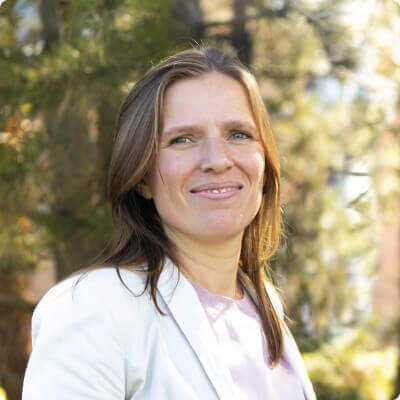 Lucille Bellec
Chief Operating Officer
"I ensure that everything runs smoothly behind the scenes so we can provide the best service to our customers."
What qualifies you to do this job? 
In my previous experiences, I've worked closely with and advised Senior executives in a FTSE 100 company. It's given me a unique end-to-end understanding of how each part of the company work together, and that's required in a COO role as we here to support all areas of the business to do their job efficiently for our customers and ensure their days go smoothly.
Do you have a pearl of investing wisdom to share? 
Diversify your portfolio to make it more resilient to market movements.
What do your shoes say about you? 
 Very neat, surprising, slightly extravert and so French…
What one thing can't you live without? 
My milk frother. Nothing better than a thick and creamy milk foam on my caffe latte to start the day.
What would your superpower be? 
I can get all the things needed for a 2-week holiday for a family of 4 fit into a medium-sized suitcase. I'm a bit like Mary Poppins (or someone who loved Tetris too much back in the days).

What the best investment lesson you've learnt? 
Invest regularly small amounts rather than a lumpsum once, it helps to flatten market movements and boost overall return.

What's the most useful app on your phone right now? 
My banking and investing apps obviously; to manage my budget, save and invest regularly for my future and my children and keep an eye on my investments at my fingertips.

What bit of advice would you give your 18-year old self?
Be open-minded to try new things or go into new adventures, even bad experiences bring learnings and helps you grow