Investing ethically is a great way to put your money to work without compromising on your principles. When buying and holding ethical investments, you get to make a positive difference in society by supporting companies that do good. But what about profit? Can sticking to your values add value to your investments?
What is ethical investing?
Before looking at performance, it's important to understand how ethical investing, also known as socially responsible investing (SRI), works. Put very simply, investing ethically means you're effectively using your money to have a positive impact on the environment and society. In other words, ethical investing is about seeking long-term returns whilst staying true to your values.
In practice, there are many ways to build a sustainable portfolio. If you know about investing and are comfortable doing it on your own, then why not give it a try? Using a DIY investment platform, you could do the picking yourself and ensure you're only investing in industries and companies that are aligned with your values. The potential problem is that the DIY approach can require a lot of work, including researching companies, analysing a large amount of market data, and keeping an eye on the news – needless to say, if you're busy with life, building your ethical portfolio on your own may not be the best option for you.
There are plenty of investment platforms and services out there that will do the hard work for you, from selecting the right mix of investments to managing your ethical portfolio on an ongoing basis. Now, with investment management services, you may need to make compromises on your holdings. Most services will use ethical funds to build your portfolio – which is a selection of sustainable investments that have been hand-picked by experts, commonly referred to by 'fund managers.' This means the investments are chosen for you, and in some cases, that selection may not meet all of your expectations.
Most funds will exclude activities that are seen as harmful to the environment and society. These activities can include the infamous 'sin stocks' (gambling, tobacco, adult entertainment, and weapons) and other controversial sectors, like fast fashion and deforestation. The exclusion criteria, as well as the tolerance threshold, will vary between funds – and as an investor, it's always wise to check these with your provider. But ethical investing isn't just about removing harmful activities, it's also about supporting organisations that do good. Many funds will also invest in companies that are committed to driving positive change in society. And the way it's done will depend on what kind of fund you're investing in.
With active funds, investment professionals will use a list of criteria to measure the ethical impact of each company they're looking at. They will assess a number of things that encompass the three key pillars of ESG: environment, society, and governance. For instance, they will look at how much waste a company produces, how diverse its staff are, and how transparent it is when reporting to the public. Then, they will give each company an ESG score and decide, based on the rating, to include it in the fund or not. Obviously, the higher the score, the better chance a company has to be selected. But active funds will also consider companies that are working hard to improve their ethical standards, meaning it's not just about the 'best-of-breed' organisations. After selecting the companies, fund managers will keep a close eye on them to ensure they maintain high standards and continue to work to improve their practices. This due diligence isn't always performed by passive ethical funds and that's something you should know as an investor, as you could end up with a fund where companies have let their ethical standards slip. The other issue with passive ethical funds is that they use a fixed ESG score to screen companies, overlooking organisations that are working very hard to change their practices and do better. And unlike active funds that can push for change using their shareholder voting power, passive funds cannot influence how business is done.
Do ethical investments offer good returns?
Now that you know how ethical investing works, it's time to look at performance. It's often assumed that you need to sacrifice returns to do your bit for the future. But is it truly the case? Does ethical investing really mean lower performance? Well, evidence shows that ethical investments tend to do as well as other types of investments. According to a study conducted in early 2000s and comparing the performance of ethical and more conventional investments in the UK, US, and Germany, there's 'no evidence of a statistically significant difference' in return between ethical and non-ethical investments1.
Let's look at the last decade now. If you compare the FTSE All-Share, where about 600 UK companies are listed, with its ethical counterpart, the FTSE4Good, you'd see almost no difference (see the graph below). Between 2010 and early 2020, the two indices moved in line with each other, with peaks and troughs occurring at the same time. If you look closely, you'll notice that the FTSE All-Share outperformed the FTSE4Good between 2010 and after 2013, the ethical index did slightly better, showing that it is possible to make money whilst sticking to your values.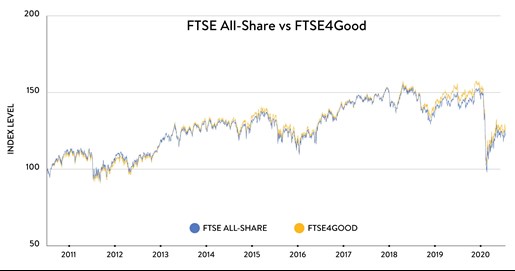 Obviously, like any form of investing, returns are not guaranteed, even with ethical investments, and there's a risk you could get back less than you initially put in. Also, whilst historical performance does provide useful insights, it's not a reliable indicator of future results.
Things to consider when investing ethically
So, ethical investing doesn't necessarily mean lower performance, in fact, it can even perform better than more conventional ways of investing. Whilst this is good news, it's very important to keep in mind a few things that could impact your overall return, such as fees and risk.
Investment fees
Regardless of how you invest, you'll need to pay fees for the service you're using whether it's a DIY platform or a robo-investor, like Wealthify. What you need to pay will mainly depend on your investment approach and what you invest in. And typically, actively-manage ethical funds will cost a little more as they involve a greater amount of work compared to other types of investments. Not only do fund managers spend time researching ethical winners, they'll also monitor the activities of each company they select and carry out due diligence to ensure the sustainability of every investment held in the fund. We believe that investing in active funds is the only way to have a portfolio that is truly ethical, but obviously, it's all up to you and whether you're willing to pay higher fees to do your part for the environment and society.
Risk appetite
If you want to make the most of your investment journey, it's important to manage your risk. Too often, investing is seen as being a super risky activity. Whilst it does involve an element of risk, there are ways to mitigate it. One way to do this is to spread your money across a large number of investments and regions, so your overall return doesn't rely on a single investment or sector. Luckily, if you're investing ethically, you'll quickly find out that there are hundreds of investments available for you. And don't forget, with funds you get to be invested in lots of assets, such as shares, bonds, and property! Another way to mitigate your investment risk is to remain invested over the long-term. Evidence shows that the longer you stick with your investments, the more likely you are to make a gain – who knew being patient could help boost your returns?
How to start investing ethically
Investing with a conscious is easier than you may think. If you can't be bothered to do it yourself (and we don't blame you for that), digital investment platforms, like Wealthify, will take care of everything. Whether you decide to open an Ethical Stocks and Shares ISA or an Ethical Pension, our team of experts will do the hard work for you, from selecting the right mix of ethical funds to making adjustments to your Ethical Plan, when needed, to keep it on track with your goals and investment style. They'll also monitor and discuss with the funds to ensure your portfolio maintains high ethical standards.
Ethical Investing Our Ethical Plans use best-in-class ethical fund providers, letting you invest in organisations committed to having a positive impact. Try it out
References:
1: Bauer, R. 2005 – International evidence on ethical mutual fund performance and investment style https://cris.maastrichtuniversity.nl/portal/files/907808/guid-26fc9091-58bf-47b9-a87f-8549b5725443-ASSET1.0
The tax treatment depends on your individual circumstances and may be subject to change in the future.
Please remember the value of your investments can go down as well as up, and you could get back less than invested.