Investing ethically is something more and more people are becoming interested in doing.
Our own research from 20181 found that a third of Brits who weren't currently invested at that time would consider investing for the first time if they could do it ethically, and two thirds of UK investors admitted that they would be interested in holding an ethical portfolio.
More recent figures indicate that investing ethically is is continuing to be a priority for investors, with a Finder survey2 discovering that 57% of UK investors hold an ethical investment, and 77% of those who intend to invest but haven't already started intend to do so ethically. This equates to just over 23 million adults in the UK.
Here are some tips to help you dip your toe in the ethical world.
Know your principles
Ethical can be defined as doing what's morally right. It sounds simple, but in practice, behaving ethically is not always easy. The main difficulty being that 'ethical' means different things to different people. Meat, alcohol, animal testing and GM crops are just a few things that can polarise opinion and be perfectly acceptable to one person whilst offending to the core someone else. Knowing your own values will help you choose your ethical investments, so start by asking yourself this simple question: What are the activities you'd like to avoid investing in? But try to keep an open mind about this because realistically, it's very difficult for investment services to cater for every taste and excluding all the companies and activities that go against individuals' beliefs would limit your investment options. Investors who want to go ethical have to accept a certain level of flexibility and see where they're happy to make compromise. Reassuringly, ethical investing isn't just about screening out organisations, it's also about supporting companies that do good and those committed to improving their ethics, such as an oil company investing in renewable energy.
Choose the investing route you prefer
Now that you know what you want to exclude from your investments, it's time to choose the investing route that suits your needs. You could pick your own ethical investments, but this requires extensive and regular research about what the different companies on the stock market do to help protect the environment and make society a fairer place. Alternatively, you could choose to invest in ethical funds. These funds are like baskets full of sustainable investments (e.g. shares, bonds, and thematic funds) and they're a great way to be invested in a large array of ethical organisations. But, if you're too busy to do it yourself, you could always get the help from online investing services which will create and manage your ethical portfolio on your behalf.
Learn about how ethical funds work
If you decide to invest in ethical funds, on your own or via a digital investing platform, you'll quickly find out that they come with different characteristics and rules. Most of them will perform negative screenings to exclude the 'bad stuff' but their exclusion policies can considerably vary. Some will focus on removing the so-called "sin stocks" (tobacco, weapons, gambling, and adult entertainment), others will carry out a wider screening and exclude other activities, such as deforestation, alcohol, and intensive farming. Ethical funds will also have different tolerance thresholds with some funds completely excluding companies profiting from harmful activities and others willing to invest in such organisations provided that no more than 10% of its overall profits derive from these kinds of activities.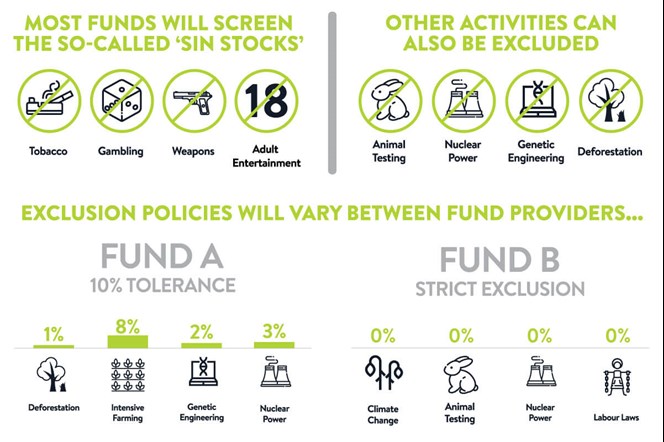 In addition to screening out companies and activities, many ethical funds will proactively seek out organisations that are striving to have a positive impact on the environment and society. And to ensure that companies they invest in maintain high ethical standards, fund managers will monitor and assess their practices. They'll look at a large range of things like how much waste they produce, how well they treat their staff, and how transparent they are with their stakeholders and shareholders.
If you're looking for the best ethical funds, make sure you do your research before you get started.
Make sure you diversify
It's often assumed that ethical investing offers less choice, but the truth is that there are hundreds of ethical investments available on many different financial markets, meaning you don't have to put all your eggs in the same basket. Just like standard investing, you can mitigate risk by spreading your money across assets and regions.
Consider opening an ISA
If you're interested in investing ethically, consider doing it in a tax-efficient way. It's not always well-known, but you can invest responsibly with a Stocks & Shares ISA. If you opt for this route, you won't pay tax on any earnings you receive, so you get to keep more of your returns whilst doing your bit for the future.
1: Research conducted by Opinium Research among an online panel of 2,004 nationally representative UK adults (aged 18+), between 14th to 17th September 2018. Results have been weighted to nationally representative criteria.
2: https://www.finder.com/uk/esg-statistics
The tax treatment depends on your individual circumstances and may be subject to change in the future.
Please remember the value of your investments can go down as well as up, and you could get back less than invested.