At Wealthify, we want to shake things up in the investment industry and make investing effortless and accessible to everyone. To make sure we stay true to our word, one of our key principles is that we have no minimum investment amounts. That way, every potential investor has access to our do-it-for-you investment solution, regardless of how much or little they want to invest.
In this blog, we'll reveal how we build and manage a Stocks and Shares ISA from just £1.
How do you build a £1 investment portfolio?
First off, there are two primary investment types we use to build a £1 Stocks and Shares ISA: bonds and shares.
What are bonds?
Bonds are essentially loans to companies and governments. You effectively loan an amount to a company or government, which is repaid at the end of the predetermined period with a little interest as compensation for lending out your money.
What are shares?
Investing in shares on the other hand means that you own a small proportion of a company, and they have no end investment date. Typically, the performance of shares is determined by the prosperity of the company, and as an owner of the company, you will benefit when it performs well, either by an increase in share price, or by receiving cash payments known as dividends. Shares are sometimes referred to as stocks, we explain the difference between stocks and shares in this blog post.
Within our £1 Stocks and Shares ISAs, the split between bonds and shares are largely impacted by the investment style you select. There are 5 investment styles available to choose from with Wealthify, ranging from Cautious to Adventurous.
What's the difference between the 5 investment styles?
At Wealthify, Cautious is our lowest risk investment style. What this means is a £1 Stocks and Shares ISA invested in a Wealthify Cautious Plan will be built using a higher percentage of bonds issued by companies and governments, and a lower percentage of shares.
Moving through the investment styles from Cautious to Adventurous, the ratio of bonds to shares inverses so if Cautious held around 90% in bonds and around 10% in shares, Adventurous would hold around 10% in bonds and around 90% in shares. The other investment styles (Tentative, Confident, and Ambitious) would sit somewhere in the middle of that split between shares and bonds.
The reason for the different percentages in bonds and shares is because bonds are typically considered a low-risk investment option and shares a high-risk investment option. As we go from our lowest risk investment style up to our highest risk investment style, the splits between the low-risk bonds and high-risk shares has to adjust in-line with the different investment styles.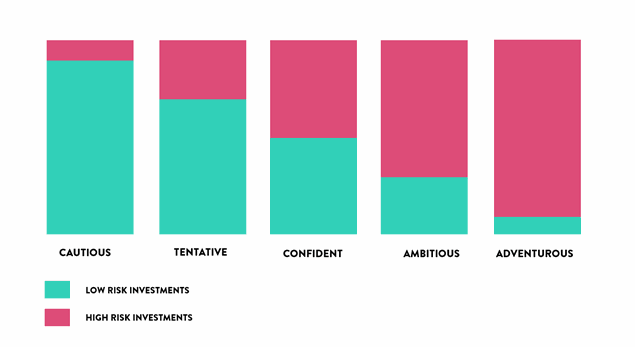 Your £1 Stocks and Shares ISA is global
To build you a diversified £1 Stocks and Shares ISA, we like to use investments from many regions across the globe. The reason why we do this is because having all your investments in one country is a risk that's not worth taking. By investing in different places, like the UK, Europe and Asia, should there be anything harmful occurring in one geographic area, like the Coronavirus outbreak, the other places that we invest in will hopefully buoy your returns.
Once we have selected the percentage split between shares and bonds in the different regions, we will choose the funds that are going to be used for your £1 Stocks and Shares ISA.
What is a fund?
Funds are essentially a large basket of individual shares or bonds contained in one product. It is a cheaper, more effective route for investors to gain access to different types of investments worldwide. For example, an investor wanting access to UK shares may select one fund that invests in UK shares instead of buying lots of individual shares of UK companies.
We select funds where you don't have to buy the whole unit
The funds that we use to build a £1 Stocks and Shares ISA are also referred to as mutual funds, unit trusts, and OEICs (open ended investment company). Although they have their subtle differences, they have one similarity which is hugely beneficial when building a Stocks and Shares ISAs for £1: the units can be split into tiny bits that can be bought and sold individually. This means that your Stocks and Shares ISA can hold a fund that invests in hundreds, if not thousands of companies, and you only have to buy 0.01 of a unit.
We buy low priced funds in a £1 Stocks and Shares ISA 
When building a £1 Stocks and Shares ISA, we ensure that funds never cost more than £10. Similar to the reason why we use funds to buy tiny bits rather than a whole unit, buying low priced funds means we can include a larger number of funds when building a Stocks and Shares ISA. This is important for diversification, including a larger number of funds means we reduce the effect of an underperforming fund severely harming your total plan performance. Our existing £1 Stocks and Shares ISAs have between 10 and 14 funds used to deliver investment returns in bonds and shares from different regions globally.
Go green with your £1 Stocks and Shares ISA
Investors, who would prefer to exclude harmful sectors like weapons manufacturing and the tobacco industry from their Plan, can open an Ethical Stocks and Shares ISA. As well as excluding harmful sectors, we include companies that can demonstrate excellent ethical standards and sustainable practices.
Ongoing management of your £1 Stocks and Shares ISA
Building your £1 Stocks and Shares ISA is part one of the process, part two is the ongoing management. When opportunities and risks present themselves, using decades of experience combined with science and technology, we will make changes to your Stocks and Shares ISA to ensure you're invested in the most attractive regions whilst aiming to shelter your returns from potential harm. On top of the ongoing monitoring and management, the funds used in your £1 Stocks and Shares ISA are reviewed on a six-monthly basis to ensure we are using the best funds available.
To wrap up how we manage your £1 Stocks and Shares ISA
Our do-it-for-you approach is just as comprehensive for the investor trying it out for the first time, as it is for the savvy investor trying to keep costs as low as possible by using an investment solution like Wealthify. Whether you're investing one pound or one million pounds, your investments in a Stocks and Shares ISA are treated with the same level of care and service.
To check out our Stocks and Shares ISAs and see what returns you may get over different time periods and investment styles, take a visit to our Create Plan page*.
*These are only forecasts and not reliable indicators of future results.
The tax treatment depends on your individual circumstances and may be subject to change in the future.
Please remember the value of your investments can go down as well as up, and you could get back less than invested.