Ethical investing is a great way to put your money to work whilst supporting companies striving to have a positive impact on the environment and society. The sustainable route is becoming increasingly popular amongst investors as two thirds (66%1) of Brits who currently invest say they'd consider ethical investments. Despite this rising popularity, many people continue to believe that ethical investing has a negative impact on potential returns.
1: Wealthify SurveyMonkey sent to existing and prospective customers in January and August 2018
Research conducted by Opinium Research among an online panel of 2,004 nationally representative UK adults (aged 18+), between 14th to 17th September 2018. Results have been weighted to nationally representative criteria.
What's the impact of ethical investing on returns?
Research shows that ethical investments can perform as well as other investment types. In the early 2000s, academics conducted a study looking at the returns generated by ethical and standard investments in the UK, US, and Germany, between 1990-2001. Overall, the research found that there was 'no evidence of a statistically significant difference' in return between ethical and more conventional investments2.
2: Bauer, R. 2005 – International evidence on ethical mutual fund performance and investment style - https://cris.maastrichtuniversity.nl/portal/files/907808/guid-26fc9091-58bf-47b9-a87f-8549b5725443-ASSET1.0
Fast forward to today and similar results can be found. Compare the FTSE All Share, which lists over 600 UK companies, and the FTSE4Good focusing on companies committed to making a positive impact on the environment and society. Between September 2013 and 2018, the FTSE All Share returned 43.4%, compared to 44.1% for its ethical counterpart3. In other words, if you had £100 invested in each of these markets during this period, there would have been around a 70 pence difference in what you might have gained.
3: Bloomberg
A similar result can be seen when you look at the longer-term. Take the performance of the UK FTSE All-Share compared to its ethical equivalent, the FTSE4Good. The graph below shows the performance of the two markets between 2010 and 2020, demonstrating that:
The performance of ethical and standard investments appears to follow the same pattern – peaks and troughs happen at the same time.
The difference between performances is very minor, even showing a slight advantage for ethical investments from 2013 in the UK. In the UK you can see that broadly speaking conventional and ethical investments have performed in line with one another. However, during 2010-2013 there was some outperformance by conventional, driven by energy companies supported by higher oil prices, although this outperformance was comparatively short-lived given the long run nature of investing.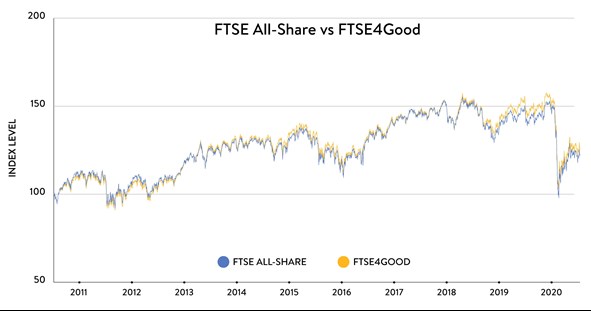 Of course, returns are not guaranteed with any form of investing, and you could get less than you put in. Also, whilst historical performance provides useful insights, it's not a reliable indicator of future results.
Things to consider when investing ethically
Higher costs and charges
As we've seen, ethical investments can perform equally as well as standard ones. However, it's vital to know what you're paying when it comes to investing, as fees and charges will eat into your returns. Ethical investments typically cost a little more, particularly those that are proactively managed to maintain high ethical standards. Always compare costs and make sure your investment choices are right for you. Ask yourself the following question before you go ethical: are you willing to pay a bit more to invest in line with your principles?
Risk appetite
When it comes to any type of investing, managing your risk is key. A good way to mitigate your risk is to spread your money across a large number of investments and regions, so your overall return doesn't rely on the performance of one or two investments. If you want to invest ethically, you'll quickly find out that there are hundreds of investments available, including shares, bonds, and thematic investments which cover specific themes, like green energy and diversity. With all these ethical options, you'll be able to spread your money and your risk.
Time horizon
With any form of investing, you should consider your time horizon: how long do you want to invest for? Holding onto your investments for many years can help smooth out market bumps and gives your money more time to benefit from the power of compounding.
Figures in this blog are based on past performance and past performance is not a reliable indicator of future results.
Please remember the value of your investments can go down as well as up, and you could get back less than invested.