The discovery of a new Covid-19 variant, Omicron, caused the markets to dip as investors became concerned about the impact on their performance.
Although it's not yet clear what the implications of this new variant will be, the general reception has been negative – it is this feeling, which we refer to as investor sentiment, that is the main driver of this dip. Uncertainty could bring opportunities, but it can also bring threats, and investors are subject to many behavioural biases such as loss aversion and recency bias which can influence their investment journeys.
Once more is known about this variant, we'll have a much clearer understanding of its implications and how it may impact the markets longer term. However, the timing is unfortunate as this information will likely come in the weeks running up to Christmas.
What's happened so far?
There's some anxiety around what this new variant may bring, however, countries have learned from the past and are pre-emptively taking greater precautions to reduce the spread of this variant. We've seen a number of countries reacting to this variant by boosting their restrictions at the borders, increasing quarantine times, and re-introducing mask protocol.
As we've already experienced these tighter restrictions and many businesses have learned to work with them, this should not have a broad economic impact. But unfortunately, there are a few sectors, however, who will feel the direct impact of these changes, such as airlines and hotels.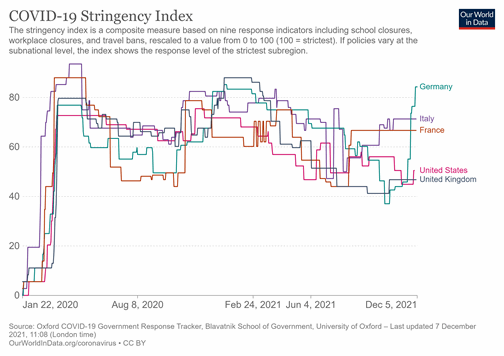 [Source: Our World In Data]
These new restrictions haven't come as a shock, as many countries across Europe have already been tightening their measures due to a rise in cases. The UK experienced a rise earlier in the year, after "Freedom Day" where many Covid restrictions were removed. Germany has been particularly concerning due to the increasing number of deaths, as well as infection rates.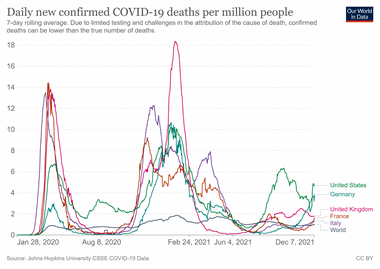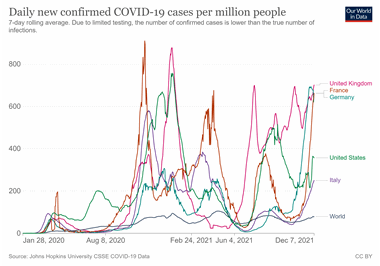 [Source: Our World In Data]
On a more positive note, there's a clear trend showing that in areas with a higher percentage of vaccinations there's a decreased number of deaths. All of this points to a world much better equipped to deal with a new variant, than we were with the initial Covid-19 outbreak in early 2020.
What can we expect to see?
As we are still in the early stages of understanding the new variant, there's debate among the scientific community on how much impact it might have. While initial reports from South Africa indicate Omicron symptoms may be milder but it's more easily spread than the current dominant variant, sparking some optimism that this may displace the more potent Delta mutation. However, there is still little agreement on the overall impact, as the number of cases globally remains comparative low at this point. This uncertainty creates a wide range of opinions, even amongst experts. For instance, Chief US Medical Adviser Fauci said that "thus far the signals are a bit encouraging", whereas the CEO of pharmaceutical company Moderna said there was a "real risk of a decrease in the effectiveness of the vaccines".
It's this uncertainty that is currently hurting investor sentiment. However, this increase in uncertainty could mean that central bank and government policy makers continue to provide further policy support to the economy until the outlook becomes clearer.
For some investors, these dips can be a worry but it's important to realise that these fluctuations (or market volatility) are a common phenomenon that are going to occur throughout your investment journey. 
When investing with Wealthify, our Investment Team continually and actively monitor the financial markets and their impact on our customers' investments. If we feel that any changes are required, or there's an opportunity to take advantage of, we act quickly in our customers best interests. This is just one of the things we do to make investing as simple as we can.
With investing, your capital is at risk, so the value of your investments can go down as well as up, which means you could get back less than you initially invested.
References