At Wealthify, we're extremely proud of the work we're doing to democratise investing and help more people than ever before become investors and make their money work harder.
We've put a great deal of time and thought into making the investing process as intuitive, simple and enjoyable as possible, and creating a service that is completely transparent and hassle-free for first-time investors.
That's why we're delighted with the feedback we've had from customers, who tell us that they love the service. We're proud to have a rating of 4.4 out of 5 from 130 reviews1 posted on reviews.co.uk since January. If you haven't already, follow this link to leave your Wealthify review. Our new app, available on iOS and Android, has also been well received and highly rated.
Recognition from the wider industry is as equally rewarding, so we're thrilled by the raft of industry awards we've received recently, including:
June 
Best Digital Innovation: Wealthify was named as Best Digital Innovation at the Wales Digital Awards hosted by Wales Online and sponsored by Innovation Point.
Sir Michael Moritz Tech Start-Up Award: we picked up two awards at the 2017 Wales Technology Awards, sharing joint honours with Wales Interactive for Most Innovative Product, and winning the prestigious Sir Michael Moritz Tech Start-Up Award in recognition of our achievements and potential to grow.
Best Proposition Development: Leading weekly journal, Investment Week, named Wealthify winner of the Proposition Development category at their Investment Marketing & Innovation Awards.
July 
Financial Services Experience Awards: we picked up Best Use of Technology this year after a hard-fought final day in which we were required to present Wealthify's proposition to a panel of industry judges.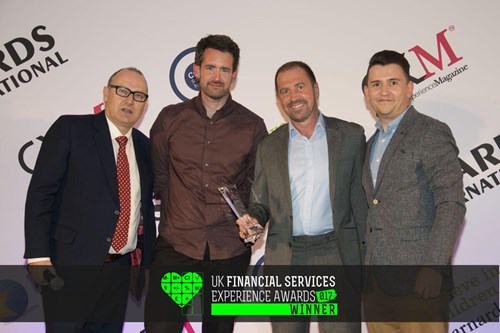 Mike Normansell (centre) and Michael Ashford (right) picking up the Best Use of Technology Award
September
UK Platform Awards: we were nominated by a panel of industry experts for the Leading Innovation Award at the UK Platform Awards, following a 'highly commended' second place, last year. The 2017 winners will be announced in September.
It must be reassuring to know that your money is in the hands of an award-winning investment service!
Investments can go down in value and you could receive back less than invested. 
1 Correct as at 13/7/17