It's not the year we wanted, but it's the year we got and, we made the most of a challenging situation and are excited to announce that all our Plans, Original and Ethical, from Cautious to Adventurous, have delivered returns that are above their benchmarks1 between September 2019 and September 2020.
Performance over the last 12 months
The graph below shows our simulated* performance for both Original and Ethical Plans across our five investment styles between start of September 2019 and end of September 2020 - please note that the data to calculate performance (below) uses the end of day prices. To capture the performance of the full 12 months, we've started with the end of the previous day (30/09/2019).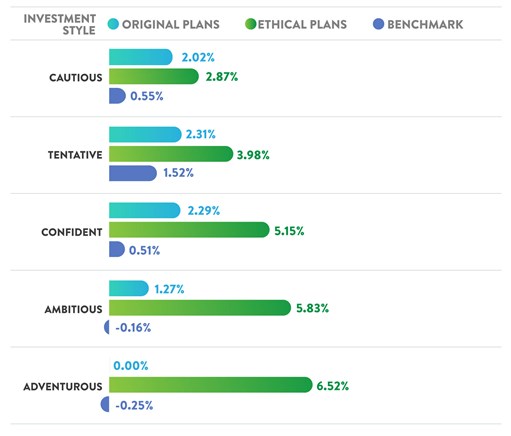 Our performance for the last 12 months is out and we are proud to say that all our Plans, across all our investment styles, from Cautious to Adventurous, have beaten industry benchmarks – please note that past performance is not a reliable indicator of future results. Despite a glimpse of hope in August where all markets rose, performance on global markets has been quite mixed, and with Covid-19 infections rates increasing once more and the economy slowing down as lockdowns return, market volatility (where markets go up and down) is likely to remain high. This means our 'riskier'  Plans (Ambitious, and Adventurous) are seeing more ups and downs than might normally be the case - this is because these Plans contain a higher proportion of shares which are the investments that are more sensitive to negative market news.
However, it is important to remember that you should always look at the bigger picture and think long-term when investing. Our team of experts are, as always, keeping a close eye on the markets and will act when needed to shelter your investments from the bad days and take advantage of any opportunities that arise.
Despite the high volatility, our Ethical Plans, across all investment styles, delivered strong gains, placing them firmly above industry benchmarks.
All-time performance
The table below shows our all-time (aka 'since inception') performance for both Original and Ethical Plans across our five investment styles. For a more detailed view of our performance, make sure to visit our 'How we invest' page where we regularly update our results.

Between March 2016 and September 2020, all our Original Plans delivered impressive double-digit returns, with our Cautious, Tentative, and Confident Plans significantly beating benchmarks. Here's a breakdown of our all-time performance throughout the years.

Similarly, between March 2018 and September 2020, all our Ethical Plans managed to outperform industry benchmarks and delivered double-digit gains, with our Adventurous Plan growing by 19% in over two years. Here's a breakdown of our all-time performance for our Ethical Plans.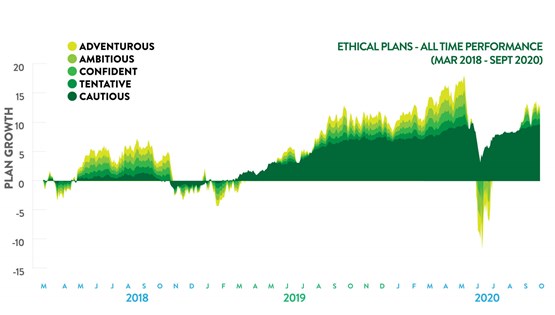 The Wealthify investment approach
Needless to say, the last nine months were eventful, and we hope that you have managed to stay safe during these turbulent times. Covid-19 and the consequent lockdowns have had serious repercussions on the economy and global stock markets. Between January and March 2020, the FTSE registered one of its largest drops, falling almost 35% 2. Markets remain very volatile due to the continued uncertainty and although nobody can predict the future, our Investment team are taking the steps necessary to anticipate and prepare accordingly.
It remains uncertain to see how the global economy may evolve, and there's always a risk you could end up with less than you initially put in. But markets will always present opportunities. Our team of experts are working tirelessly to protect our customers' Plans from the swings and take advantage of the better days. We are keeping a watchful eye on market data and news to constantly challenge our assumptions. Our philosophy focuses on medium to long-term trends in the market, making the right decisions about the mix of investments we use and the regions we invest in.
References:
1: We use ARC benchmark data to compare the performance of our Plans to that of hundreds of leading UK investment providers, including Barclays, UBS, HSBC, Citi, Deutsche Bank, Coutts and 64 other providers. For our Cautious investment style, we use the Consumer Price Index as a benchmark. Read more about our benchmarks in our FAQs.
2: Bloomberg
* 'Simulated' returns are so named as they are based on the performance of a model which identically mirrors the decisions we take on customers' Plans. It is based on an account size that is over £500 and assumes that our maximum Wealthify fee of 0.60% is taken, as well as underlying fund costs. Individual customer returns may deviate slightly from the model figures, particularly those customers who may have added to or withdrawn from their Plans throughout the year or have a different fee rate.
Past performance is not a reliable indicator of future results.
The tax treatment depends on your individual circumstances and may be subject to change in the future.
Please remember the value of your investments can go down as well as up, and you could get back less than invested.