Did you know that 23% of Brits own a dog[1]? That easily makes it the most loved pet in the country, with cats not even coming close at 16%. But this isn't an article telling you why dogs are better than cats, instead we wanted to look at the rising costs of owning a dog.
So why do the numbers matter? If 23% of people in the UK own a dog, that means there are over 15 million people constantly looking to make purchases for their pooches. This has naturally created a booming pet industry, with £2.5 billion spent on vet bills in 2019 and 2.8 billion on pet food[2]. Perhaps even more interesting than this, is the report which found that 51% of pet owners would cut back on their spending in order to spoil their pets.[3]
So, before you start reducing your clothes budget to buy more accessories for you pup, here are some things you should know.
Buying or adopting
There are a lot of things that may influence the type of dog you want, but a big deciding factor is often whether you're buying a puppy or adopting one. While adopting may limit your options when it comes to breed and age, it is typically much cheaper – Dogs Trust, for example, charge £150 as a rehoming fee, which includes a vet check, microchipping, vaccinations, collar and lead.[4]
On the other hand, if you were buying a pedigree pup you could be looking at a price tag that could be anything from £500 to £5,000 depending on the breed. And it isn't much cheaper to go for an increasingly popular poodle-mix to benefit from their hypoallergenic fur – the Economist found that the average price of a Cockapoo was £2,905 in May 2020.[5]
But money often isn't the driving factor for choosing a dog. You may wish to adopt for ethical reasons, giving an older dog a better life, or you may have a certain breed in mind to fit with your lifestyle or as it's the type of dog your family has always had.
Supply and demand for puppies
While you may not think of that fluffy ball of fur as a commodity, the price of puppies can rise and fall in line with demand. And during the Covid-19 pandemic, the demand for dogs skyrocketed as families found themselves stuck at home creating an ideal opportunity to train puppies with the care and attention they need.
But it isn't just the demand that's increased, the supply has decreased as well, especially within pedigree dogs. This is partly due to the geographical separation of potential parents to prevent inbreeding – not such a problem with mongrels, but very limiting for many breeders. Some breeders are concerned that the desire for a puppy will be outweighed when lockdown is lifted and have therefore been more careful in accepting buyers.
These changes have created an imbalance which saw the price for dogs drastically increase with cockapoo and cavapoo litters selling, on average, for more than 200% the price they were pre-Covid.[5] This does bring into question the ethics of this approach
Hard work for hungry pups
It isn't just the prices of puppies that coronavirus has impacted, the cost of pet food saw a 3.1% increase between 12-29th March 2020.[6] But further to this, in the last ten years there has been a growing demand for premium pet foods, and in 2014 as many as 47% of owners leaned more towards sustainable, family-owned, and organic business when considering their pet's nutritional needs.[7]
Now obviously, not everyone will choose or can afford this option, but it's important to note that pet food is subject to the same rises and falls in price as human food. For example, in 2017 global food prices climbed, with meat, dairy, and wheat all rising year on year – this impacted the prices of the food for us and our furry friends, with some increasing in price by as much as 11%.[8]  
Keeping up with inflation
Just like everything else, all the bits and pieces you buy for your hound are likely to increase each year as a result of inflation. So, for example, if you bought your brand new puppy a bed in 2015 and it cost you £50, if you wanted to buy the same bed in 2019 it may have cost you £55.85, assuming this rose at inflation.[9] And these increases apply to all your purchases, meaning that every year the cost of owning a dog rises.
There are many things you could try to keep up with rising costs, from working towards a pay rise each year, to investing your money to beat inflation. And while you can't set up a Junior ISA for your fur baby, it could be worth putting money aside for them as they get older, because unfortunately the price of vet bills, specialist mattresses and extra comforts can stack up when old age creeps in.
The true cost of a dog
Unsurprisingly, the first year you have a dog is the most expensive. First there's the cost of your new best friend, then you have to get all the bits and pieces you need like collars, leads, bedding, and – of course – plenty of toys. You'll also need to pay for their vaccinations, and you may want to pay for puppy training lessons too. Then you may want to think about insurance too, so that you don't have to pay out if your pup is poorly.
While all of this adds up, interestingly most owners don't realise, with 28% believing that their pooch only costs them between £21 and £40 a month.[10] The reality on the other hand can be five times this amount. The cost tends to differ quite significantly on size, with a small dog costing £144, medium dogs £164, and large dogs a huge £209 each month.[10] That's definitely not a cost to be sniffed at!
But what does this break down look like? Here's the breakdown that NimbleFins, a research and data-driven personal finance site, gives: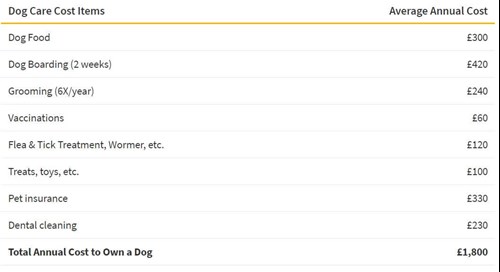 And while that may seem like a lot, it doesn't include things like dog walking costs, paying any vet excess charges, or if you need a behavioural coach or trainer. And, as mentioned previously, these costs are likely to increase each year in line with inflation, so this may be the cost of owning a dog in 2021, but it could be even more in a few years' time.
Do dogs provide a return on investment?
Yes, but probably not in the way you're thinking of. Recent statistics show that 93% of pet owners directly felt their pet increases their happiness, with 88% saying it's improved their lives.[11] It may not be a financial return, but when looking at your overall life, it's undeniable that dogs are a great investment for joy and unconditional love.
However, there are plenty of financial success stories that have been driven by dogs. Look at Lilly's kitchen for example, this London-based, family run company was inspired by their border terrier, Lilly, to deliver natural, wholesome pet food in 2008. Fast forward 12 years, and they have £85 million in sales across 6,000 stores in 30 countries and has now been purchased by Nestle.[12] Needless to say, that's probably a lot more than they were expecting from when they first took Lilly home!
While we're not saying this isn't a possibility for you, it takes a lot of hard work, a spot of luck, and some good business sense. There are probably much easier things to try and make a financial return on than your family pet.
References:
The tax treatment depends on your individual circumstances and may be subject to change in the future.
Please remember the value of your investments can go down as well as up, and you could get back less than invested.