Please note: this blog was published in April 2023 and its content is based on what was correct at the time of writing. As a result, some of the facts and opinions may no longer be current or relevant.
April saw another month of positive returns, with fears of a banking crisis put on the back burner (despite the recent collapse of First Republic Bank — the second-largest bank to fail in US history).
Although US regional banks are not out of the woods just yet, a report [1] from the US central bank suggested that the problem was unlikely to spread.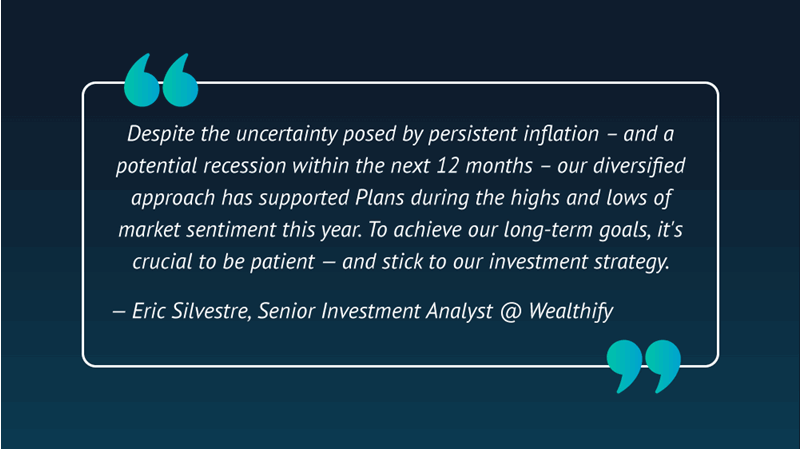 According to the data below – courtesy of BCA Research [2] – economic signals are so mixed, even economists and company analysts seem to be living in two separate worlds. While economists are forecasting negative economic growth for the last two quarters of 2023, company analysts seem to be expecting a recovery in profits.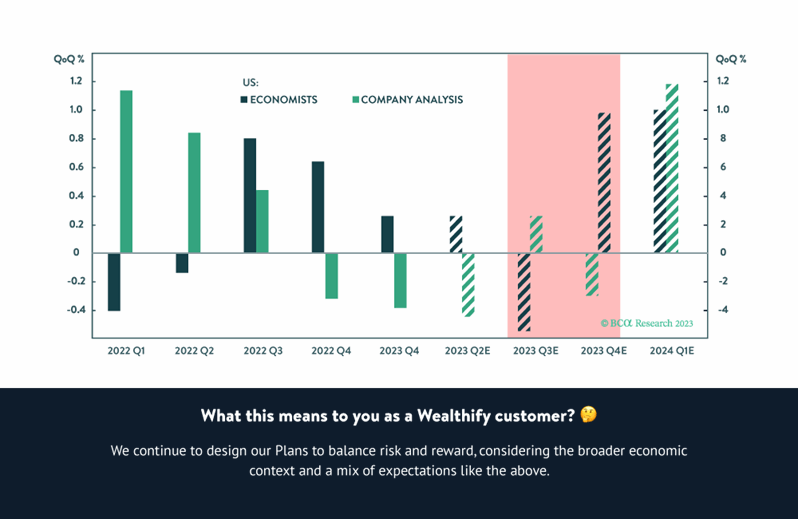 A cocktail of strong wages and excess savings continue to underpin strong demand for services, although other areas of the economy are flashing their hazard lights: one of the most noticeable being the decline in global manufacturing activity.
Asian exports are seeing double-digit declines, and the International Data Corporation reported a 29% decline in global shipments of traditional PCs during the first quarter of 2023. Apple Mac shipments, for example, were down 40.5%.
Despite persistent inflation; a drop in manufacturing activity; a US regional bank crisis; pressure on company earnings; and a highly anticipated recession, markets have continued to rally. This demonstrates the importance of staying invested over the long term.
Our job at Wealthify is to ensure that, when or if markets turn negative, our investment strategy offers some protection for Plans.
In the US, the jobs report suggested a modest slowdown in employment. A decline in the goods-producing sector was offset by strong gains in leisure and hospitality. In other words, companies have started to cut jobs, but the services sector is absorbing and offsetting a lot of these cuts. Given that most of the jobs are being created in areas that offer lower salaries, the overall increase in wages decelerated from 4.6% to 4.2%.
There seems to be a clear downward trend in US wage growth, and this continues to feed hopes that the battle against inflation may be coming to an end. Shelter inflation – one of the largest components of US inflation – has started a downward trend, with economists expecting inflation to end the year at around 3-4%.
Whilst things are moving in the right direction Stateside, these numbers are far from what we'd consider a 'hard landing' — and it seems unlikely that the Federal Reserve will cut interest rates as fast as markets expect.
UK inflation was hotter than expected, remaining in double digits at 10.1%. Food inflation is almost at 20%; this came hot on the heels of strong wage gains, causing an increase in interest rate expectations (currently at 4.25% but now expected to peak at 5% in November).
Meanwhile, the European Central Bank (ECB) is also struggling to bring inflation down and markets expect interest rates to peak in the Eurozone at 3.75%. This means three more rate increases of 0.25%, which puts the ECB in a similar position to the Bank of England.
Markets
In April, global shares delivered a modest gain of 1.3%, whereas global bonds were flat. Share performance was driven by more defensive sectors – such as Health Care, Consumer Staples, and Utilities – whereas Banks also experienced a solid recovery after suffering a difficult March. The surprise production cuts announced by the Organization of the Petroleum Exporting Countries Plus (OPEC+) at the beginning of the month also supported the Energy sector.
The UK was the best-performing region this month (+3.1%) after the drop in March, followed by Japan (+2.8%), Europe (+1.6%) and the US (+1.5%). In contrast, Emerging Markets underperformed (-1.3%), partly driven by a surprising decline in Chinese manufacturing activity.
Currency
Inflation expectations continued to decline in the US, in contrast to Europe and the UK. Both the European Central Bank and the Bank of England are expected to increase interest rates further, leading to a decline in the US dollar against both the euro and the pound. In addition, the Japanese yen continues to underperform (-4.3%) against the pound.
Investment type performance breakdown
Overall, Original Plans outperformed Ethical Plans last month. This is due to the underperformance of growth sectors and the positive performance of Energy benefiting Original Plans in April.
The data within the graphic below outlines performance for both Confident Original and Confident Ethical Plans:
In our Original Plans, shares (+1.2%), infrastructure (+0.8%), and property (+1.1%), all ended the month in positive territory. Bonds were flat.
Our Plans continued to benefit from our US dollar hedge, as the US dollar continued to weaken.
Ethical shares (-0.3%) underperformed Original due to their bias towards growth sectors. Ethical bonds (-0.1%) also underperformed slightly relative to Original.
Summary with Plan details
In April, Plans with a higher allocation to shares performed better than those with a higher allocation to lower-risk assets. We expect further volatility and continue to position our Plans with caution. Our Investment Team continues to actively monitor the financial markets and their impact on your Plan — and are always ready to act in your best interests to events as they unfold.
We are continually evaluating new market information and key market drivers to help keep your Investment Plan on track.
It's important to remember that it's normal for markets to go up and down, with periods of volatility to be expected when you invest. As always, we continue to look for opportunities to position your investments, with the goal of protecting your money and achieving your long-term objectives.
Wealthify does not provide financial advice. Please seek financial advice if you are unsure about investing.
Please remember the value of your investments can go down as well as up, and you could get back less than invested. Past performance is not a reliable indicator of future results.
1. https://www.federalreserve.gov/releases/h41/4
2. BCA Research – Global Asset Allocation – April 2023