Love Island is the breakout of all dating shows, and there's no denying that it's a total cultural phenomenon. We're now in our seventh consecutive year of matchmaking, brand deals, limited companies and empire-building Love Islanders.
Whether you love it, loathe it, or it's your dirty little secret, there's no denying that the show is a success. Love Island has catapulted its contestants into the limelight as they find love and fight to pocket a £50,000 prize and let's not forget the flurry of success that islanders tend to find afterwards as 'social media influencers'.
Following the return of the hit ITV show, we've looked at 222* previous Love Island contestants to uncover who was luckiest in love and who tops the Love Island rich list with their personal finance.
Being financially savvy is essential for Love Islanders in particular as our research has shown that contestants increase their income dramatically after leaving the show. When faced with a lump sum of money or earnings far above anything you could have imagined, many people rush to think of how they will spend it. But by setting up a business and monetising their popularity, these Love Islanders have built a new revenue stream that will hopefully remain successful in the years to come.
Fame is fleeting, and rather than spending new-found money all at once, you might want to think about preparing for the future when you might not have the same amount of cash rolling in. After all, you never know what might happen.
And if you're ready to start thinking about this, one option to consider could be investing your money in the stock market over the long term – such as through a stocks and shares ISA.
By investing in an ISA, the islanders could give their money an opportunity to grow further and help ensure that they have a nest egg to fall back on once their time in the limelight is over. This is because, thanks to the annual ISA allowance, you can invest up to £20,000 per year (for the current tax year) without paying tax on any gains you make.
I've got a...Limited Company
Many of Love Island's previous contestants have used their earnings to set up a limited company. Out of the 222 previous contestants we investigated, 103 were currently listed as 'directors' at a public limited company - that's almost half (47%) of contestants!
Our research found that the islanders who have set up limited companies since appearing on the show reported an average of £71,317.41 in capital and reserves in their latest company accounts. Unsurprisingly, Molly-Mae Hague topped the table with a whopping £2,019,369 in reserves across her four businesses. Most recently, reporting £1,729,574 in reserves alone for her company MMH GROUP HOLDINGS LTD on the 31st of May 2022.
Following behind is former hairdresser Kem Cetinay, who reported £698,624 in reserves for his three businesses. Season four's Kazimir Crossley came in third, last reporting £387,807 in reserves across her four companies.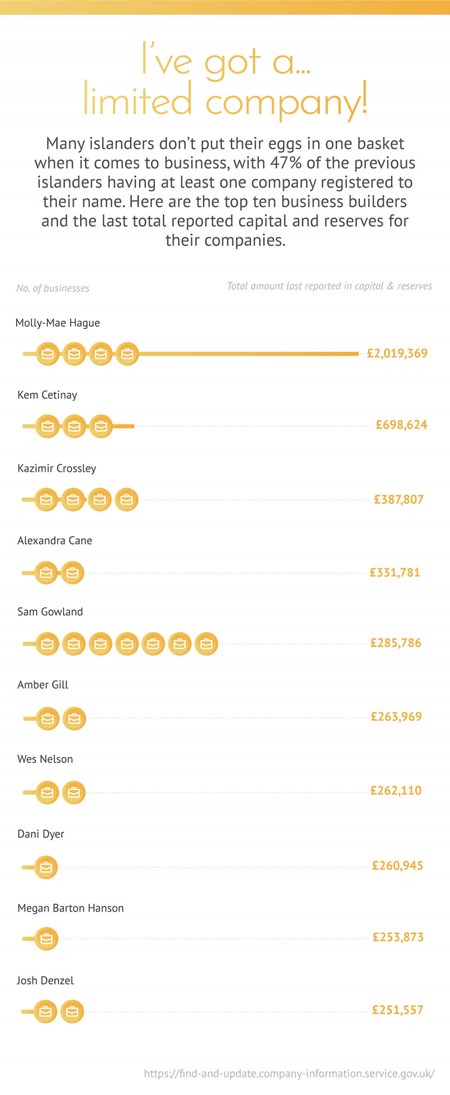 Our research found runner-ups to be the most successful in setting up a business, reporting an average of £172,229 in reserves across their business(es).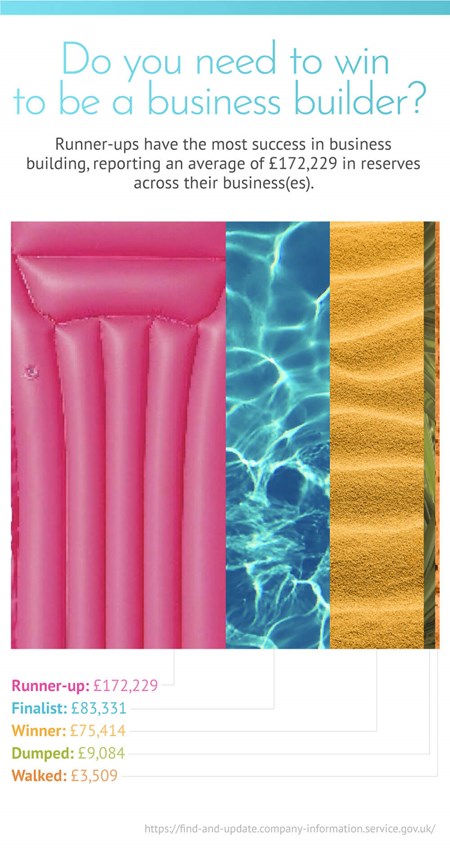 The Social Stars
Love Island is notorious for its ability to create social media superstars – and, with superstars comes super earners. Using Influencer Marketing Hub's Instagram Money Calculator, we found that, unsurprisingly, Molly-Mae is miles ahead of the game when it comes to Insta earners, pocketing almost £11,946 more than the average Love Islander for a single sponsored post on the app, who earns around £1701.
Closely following Molly-Mae, is none other than her boyfriend, Tommy Fury, who can earn around £8,766 per sponsored post, Maura Higgins at £7,380, Dani Dyer at £7,354 and Olivia Bowen at £6,235. Making Tommy the only male islander to score in the top five Insta Earners!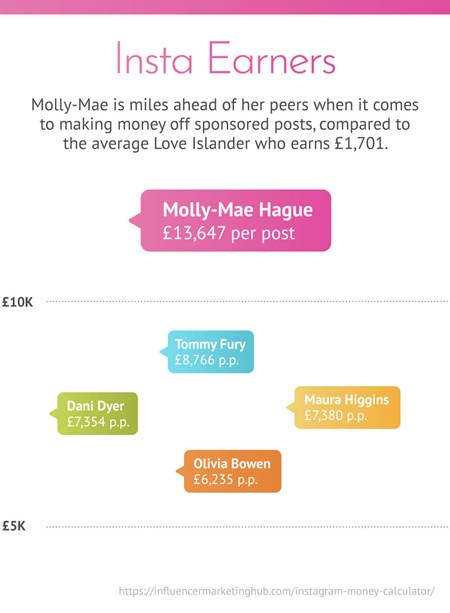 Overall, we found that female Love Island contestants earn 36.6% more per sponsored post than their male counterparts – more than £500 a time. Interestingly, a study in 2017 also showed that female influencers earn 35% more than male influencers in the UK.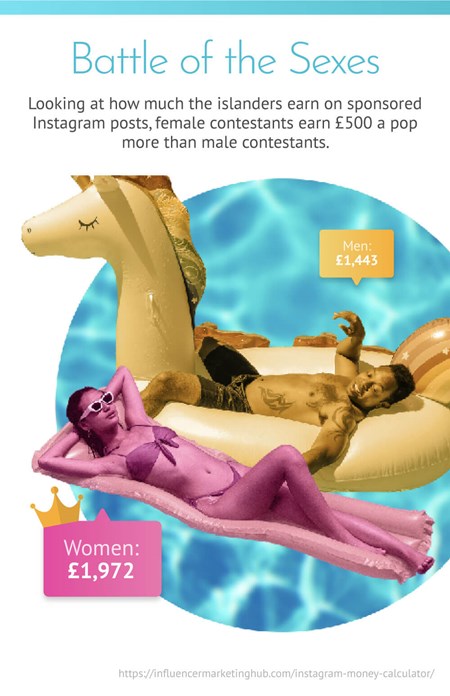 100% My Type on Paper... The Lovers
Love is ultimately the aim of the game (if we're going off the name of the show), but which Love Island contestants have been the luckiest in love?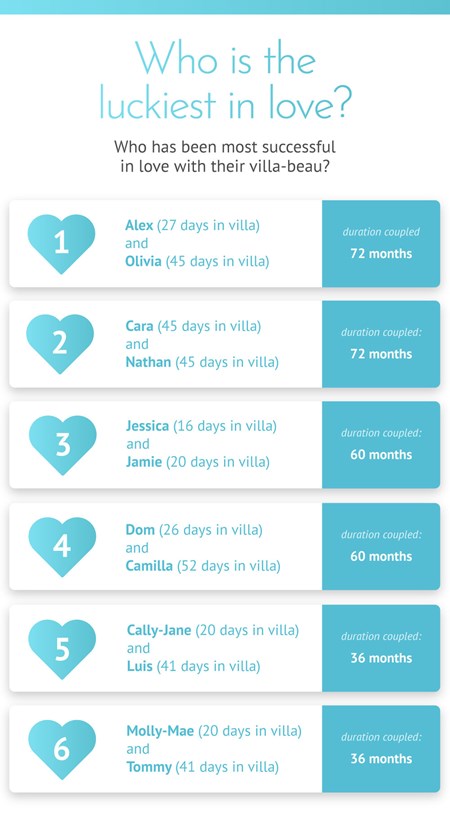 While some islanders have bet the odds and remained coupled up for years post-villa, we found that the average Love Island couple only stays together for five months and 26 days after the show ends.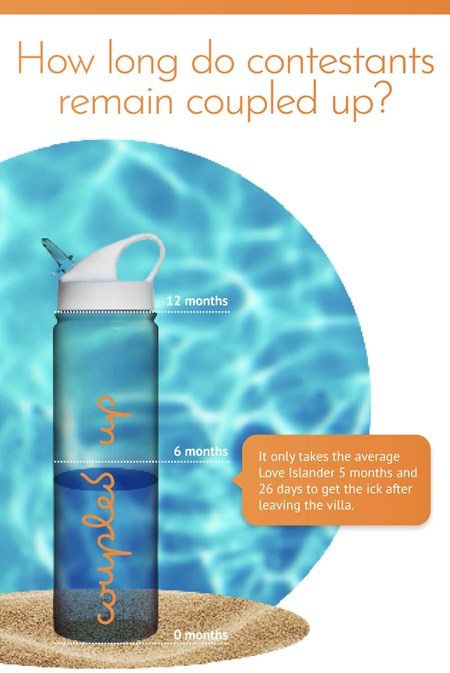 Unlucky in Love but Lucky in £
While love might be the aim of the game, sometimes things just don't work out – maybe they got the 'ick', or maybe they made a mistake by putting their eggs in one basket. We have looked at the islanders who might've thought they met the one (however, time has proved it to be a fleeting holiday romance) to determine which islanders have been unlucky in love but lucky in fortune.
Combining which islanders were no longer in their villa relationships, how much they make per sponsored social post, how much they last reported in their company(ies) reserves and how much Love Island prize money they pocketed, we created a scoring system with a unique formula to determine the top 10.
Season 3's Kem Cetinay topped the list after pocketing half of the £50,000 prize money back in 2017 and has carried on his financial success and celeb status since then. It's been reported that Kem Cetinay landed a seven-figure deal when he signed a contract with Primark to launch his own fashion and grooming range in November 2021.
Second on the scoreboard is the daughter of her namesake actor father, Dani Dyer, who reported £260,945 in reserves for her limited company: I WANT IT, I GOT IT LTD, not to mention her reported £500,000 deal with In The Style after leaving the villa.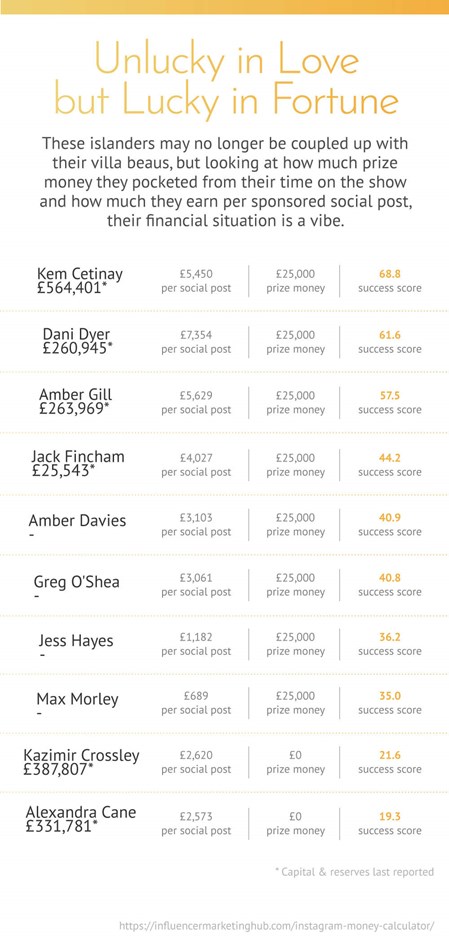 Luckiest in Love AND Money
While many islanders claim that they enter the villa for love, it's often speculated that might not be entirely accurate. So, who hit the jackpot and won both money and love?
Using a unique formula, we looked at the social media earnings, businesses and relationships of Love Islanders to see who came out on top in the love and money charts. The top-scoring Love Islander here was again, Molly-Mae, but interestingly, she was closely followed by Cara de la Hoyde and Nathan Massey, who both won the show in season 2 and are still together. Nathan and Cara are now married with two children after breaking up for a short time in 2017.

Does it Matter if You Win?
While the Love island winners still see success, when looking at popularity through global online searches, social media followings and income, runner-ups seem to have it all overall, not just in business building. This is no surprise when we think of the success of runner-up couples like Olivia and Alex Bowen, and Molly-Mae Hague and Tommy Fury.

How it Started VS How it's Going
To determine an increase in earnings, we looked at each of the ex-islander's job titles before entering the villa and narrowed these down to industries. The Entertainment industry is the favourite for islanders both before and after the villa, followed by Sports and Wellbeing, with both industries almost doubling in post-villa occupations.
We used Glassdoor to reveal that the average annual salary of an islander before entering the villa is £31,026, the same as the current average in the UK.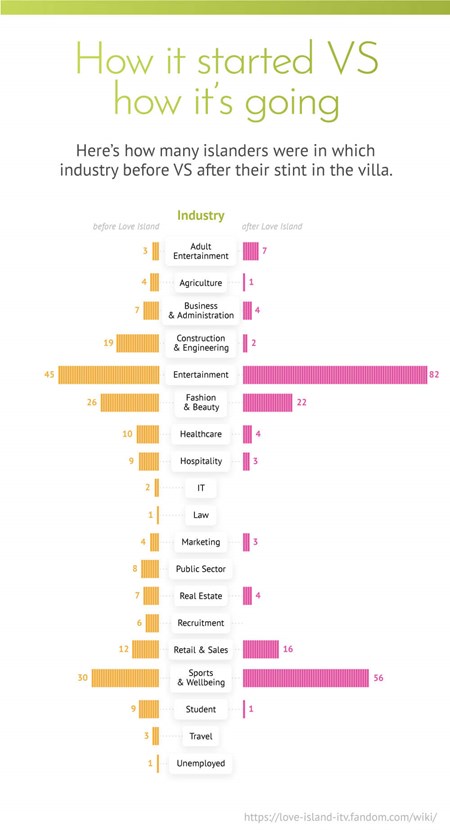 Regions Most Successful in Money
Whilst we were already in the depth of the ex-Love Island contestants' lives, we thought we'd look at where each of the previous islanders came from in the UK. Once we had a list of towns and cities, we then split these into UK regions to determine which part of the UK produces the most financially successful islanders in terms of social media earnings and those with limited companies.
Our data revealed islanders from the East of England and Ireland are the most financially successful. Ex-islanders from the East last reported an average of £183,593.18 in capitals and reserves on their limited companies. Closely following the East were the ex-Islanders from Ireland, who are the region to earn the most on sponsored social posts, averaging £2,261.70 per post.
Interestingly, out of the previous season's 224 contestants on the show, only seven have been from Ireland. It really must be the luck of the Irish!

Methodology
You can find the full dataset for this campaign here.
*2 contestants were excluded from the dataset due to being deceased. 222 out of 224 contestants were analysed on some scale.
All data was collected in May 2022.
Earnings for Instagram posts were calculated using Influencer Marketing Hub's Instagram Earnings Calculator and converted from $ to £ using Currency Converter PRO Chrome plugin.
Age at time of show, season, days in villa, location and pre-villa profession were found using https://love-island-itv.fandom.com/wiki/
Global search volume found using www.semrush.com. When an islander's name was the same as other celebrities, 'love island' was added after their name in the SEMrush search.
Average salaries before they entered the villa was taken from Glassdoor. Where islanders had two professions listed, average wage of both combined was used.
Social following pulled from the islanders Instagram, YouTube & TikTok accounts.
LinkedIn was used to find some of the islanders most recent professions aside to 'influencer'.
Companies House 'Find & Update Company Information Service' was used to find each islander's (if applicable) active limited companies and capital and reserves for last reported year. All of this data was sourced on 2.05.22 and was true of this time. There may have been company fluctuations since.
Famous Birthdays was used to cross reference the islander's birthdays with those listed on the Companies House page.