If you can afford to, regularly giving your children pocket money could be a great way to help them feel more grown-up and independent – which is something they all welcome, right?
Not only that, but it can teach them about the value of money from a young age by encouraging them to save for the things they really want. And with 32% of parents wishing they'd been taught about saving by their parents when they were younger1, it could be a valuable tool to help yours build good financial habits early on.
Pocket money can also be used as a way to reward your kids for good their behaviour (such as doing homework or helping with chores around the house) and educate them about the importance of working for their money. After all, cash sadly doesn't grow on trees, and it's rarely handed to you for nothing!
And it turns out that many parents agree with the benefits of giving children an allowance. A 2019 study conducted by the Yorkshire Building Society discovered that almost 84% of children in the UK get given pocket money by their parents – and this can be as early as six years old.2
So, if you're unsure of how much pocket money you want to give to your child and how much they might expect to get compared to their friends, let's look at some stats, shall we?
How much pocket money does the average parent give to their children?
The amount of pocket money you give your children will depend on a variety of factors, such as how many you have, how much you can afford to give them, how old they are, and whether you're also paying into a savings or investment account for them to use when they're older – such as a Junior Cash ISA or a Junior Stocks and Shares ISA (don't worry if you're unsure of what these are as we'll talk a bit more about them later).
But if you do want a ballpark figure to help you decide how much pocket money to give to your little ones, the amount a child typically gets between the ages of 6 and 17 is a total of £2,670 .3 Not-too-shabby at all in return for doing some chores!
If you're looking at this amount and it's making you sweat a little, let's break it down into what it actually means for you and your wallet.
According to that same study by the Yorkshire Building Society, rather than children receiving a flat rate of pocket money over the years no matter how old they are, a child typically receives a 'raise' of £27 per year. This means that, on average, a child in the UK would start out with £9.41 a month (or £112.92 a year) at age 6 (if their parents started paying it to them at that age), and this total would increase to £34.14 a month (or £409.68 a year) when the child reaches 17.
This increase can be more clearly seen in the chart below: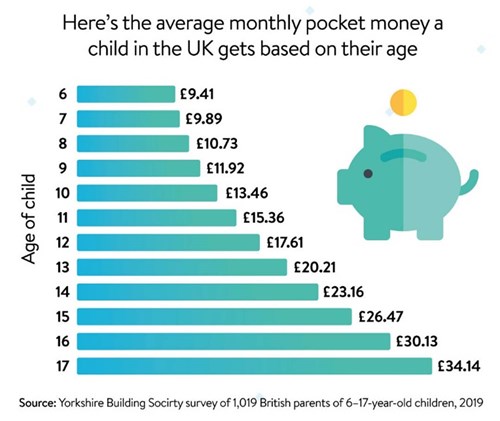 What age should I start giving my children pocket money?
This research shows that 55% of children start getting pocket money at age 6, and the percentage of children that do get this from their parents gradually increases until it reaches a peak of 83.5% at age 12. This decreases to 66% of children at age 17.
Knowing what age to start giving your kids pocket money can be tricky because you might feel as though you need to keep up with what other parents are doing or worry that your children may compare themselves to their friends . But don't forget that everyone's financial situation is different, and your decision could depend on a range of factors, such as how much disposable income your family has.
However, giving your children an allowance can help to teach them about the value of spending and saving money, and 61.3% of UK parents admit that they give their kids pocket money for this very reason.2 Interestingly, research from behavioural experts at the University of Cambridge has actually concluded that money habits are typically formed up to the age of 7 – and they say that "it can be hard to reverse those habits later in life".4 So, this is something that you might want to bear in mind when coming to a decision of when to start paying it out.
Could you consider opening a bank, savings, or investment account for them?
Alongside paying pocket money, you could also consider putting savings away for your child to use in the future. This money could then be used to help them purchase their first car, attend university, get on the property ladder, plan their dream wedding, or even go travelling. It could also be used as a 'rainy day fund' in case something goes wrong.
A Junior ISA is a type of account that can be useful for this as they allow you to save or invest up to £9,000 tax-free for your child each year and this money will be tucked away until they reach their 18th birthday. Just FYI, the maximum you can save or invest in a Junior ISA is subject to change, but it currently stands at £9,000 for the year 2021/22 and will remain at this amount for 2022/23 too.5
You can choose how much you pay into your child's ISA, and when they turn 18, they can decide whether to withdraw this money or keep it in an Adult ISA (this is what a Junior ISA automatically turns into when they reach this age). If they do decide to keep it in an Adult ISA, then they will be able to carry on adding to their savings or investment themselves until they're ready to withdraw it – and with an Adult ISA, the tax-free allowance for 2021/22 and 2022/23 rises to £20,000.
What types of ISAs are available for my child?
There are two types of ISAs you can set-up for your children; these are a Junior Cash ISA or a Junior Stocks and Shares ISA (the latter of which we offer here at Wealthify). You can choose to pay into just one Junior ISA or have one of each type for your little one. That choice is completely up to you. However, please remember that the £9,000 Junior ISA allowance for the 2021/22 tax year isn't for each type of JISA. You can deposit up to £9,000 a year in either a Junior Cash ISA or Junior Stocks and Shares ISA or split this allowance across both types.
So, what is the main difference between the two types of Junior ISAs?
A Junior Cash ISA is basically a savings account where your child won't pay tax on the interest they earn. However, with a Junior Stocks and Shares ISA, the money you pay in will be invested in the stock market. This means that your child could see their savings grow further with the latter option – although it's important to remember that stock markets can go up and down unexpectedly, and your child may get back less than you initially invested for them.
Both types of ISAs follow the same rules in terms of when the money can be accessed by your child. With both, you also won't be able to withdraw the money yourself after paying it into the account, and it is only in exceptional circumstances that you will be able to do this. You can find out more by visiting the GOV.UK website.
Want to see if you could make your money go further for your child's future? Find out more about our Junior Stocks and Shares ISA. We make it easy to see exactly how much you have saved and you will have full flexibility over how much (and how often) you pay in. And if your little one has a Child Trust Fund, you can transfer it into their Junior ISA without hassle!
The tax treatment depends on your individual circumstances and may be subject to change in the future.
Please remember the value of your investments can go down as well as up, and your child could g et back less than invested.
Wealthify does not offer financial advice. Please seek financial advice if you're unsure about investing.