Junior ISAs, or Child ISAs as they are sometimes referred, can be a great way to start building a financial nest egg for your child. Plus, it has the added benefit of being hidden away from income and capital gains tax, meaning that your child gets to keep more of their money.
But first, let's take a quick look at who a Junior ISA (JISA) is for, and who can open the account.
Who can open a Junior ISA?
At the moment, only a parent or legal guardian of a child who is under 18 can open a Junior ISA.
This type of savings account is generally limited to those who live in the UK. However, if you're a Crown servant or your child depends on you for care, and you live overseas, then you may also be entitled to open a Junior ISA.
You can't open a Junior ISA if your child already has a Child Trust Fund (CTF). If you want to move from a CTF to a Junior ISA, you'll need to transfer the money out of a Child Trust Fund and to a Junior ISA.
How does a Junior ISA work?
A Junior ISA is a tax-free, long term savings account to help you provide a good financial future for your little one.
You're able to open an account from the moment your child is born and save for them, or with them, up until their 18th birthday. And unlike a regular savings account, any money that is put into the Junior ISA is locked in until your child turns 18.
Who is responsible for a Junior ISA?
As the child's parent or guardian, you'll have full responsibility over the Child ISA, being able to open, manage, and transfer their account, but all the money that is saved in the account will belong to your kid.
At 16 years old, your child will be able to take control of the account if they want to, but the money cannot be withdrawn – by anyone – until they turn 18.
At this point, the Junior ISA becomes theirs and they can choose what to do with it, they could keep saving in an Adult ISA, withdraw some of the money, or even take it all out. This is why it could be a good idea to teach your kids about financial best practices and savings goals.
What is the Junior ISA allowance?
Each tax year, you're only able to put a certain amount of money into a Junior ISA. How much you can put into a Junior ISA is subject to change each year, as it forms a part of the government's budget policy.
The tax year runs from 6th April to midnight on 5th April, when the allowance is refreshed. It's worth noting that any unused allowance cannot be carried over, so if you want to maximise savings it may be a good idea to pay in before the deadline.
The current Junior ISA allowance for the 2023/24 tax year is £9,000. That means that £9,000 is the maximum allowance you can save for your child tax-free within a tax year, and although the allowance has been the same amount for the last tax years, it marks a significant increase from the limit for 2019/20.
In fact, it more than doubled the previous Junior ISA allowance for 2019/20, which was set at £4,368. For comparison, the Child ISA limit in 2018/19 was just £4,260 – meaning that the total change between the two previous years was £108, compared to the £4,632 increase for the 20/21 JISA annual allowance.
What types of Junior ISA are available?
There are two types of Junior ISA you can open:
Junior Cash ISA – this is simply a cash savings account that will allow you to not pay tax on any interest you may receive from any money you tuck away in it.
Junior Stocks and Shares ISA – your child can be an investor before they even turn one! With this type of account, your money is invested, and you will not pay tax on any profits you receive from these investments.
You can choose to open one, or both of these types of Junior ISA.
If the latter, your Junior ISA allowance will be split across the two accounts, but you have complete flexibility in how you use this. For example, you could choose to do an even 50/50 split between investments and cash, or you could choose to put 10% in cash and 90% in stocks or vice versa – it is completely up to you.
Because with a Junior ISA you're committed to long-term savings, many Cash ISA providers will offer you better interest rates than you may get from normal savings accounts.
It's also worth noting that committing to long term investing generally provides positive returns. In fact, history suggests that people who invested in the FTSE100 for any 10-year period between 1984 and 2021 had an 89% chance of making a gain[1].
Junior ISA Invest in your child's future with a Stocks and Shares Junior ISA. Invest up to £9,000 per year, with tax free returns for children under 18.

Capital at risk Invest now
Is the Junior ISA allowance per child?
Yes. If you have more than one child, then they will each have their own Junior ISA allowance – so, for example, in the 2023/24 tax year, you would be able to save and/or invest up to £9,000 for each of your children in a Junior ISA.
This is because any money placed in a Junior ISA belongs to your child, and therefore they are entitled to their own allowances.
What happens if you exceed your Junior ISA allowance?
The maximum Junior ISA allowance is £9,000, but if you accidently paid too much money into your child's account then don't worry. There are a few things that will happen here.
Firstly, you won't receive any tax relief on anything extra you put in, but also HMRC will be in touch with you at the end of the tax year to provide further advice on how to correct this mistake.
Can you withdraw money from a Junior ISA?
No, any money that is put into a Junior ISA is locked in until your child turns 18. At this point, the money is theirs, and they will have several options of what they can do with it – they could withdraw some of it, all of it, or convert their Junior ISA into an Adult ISA and continue to save.
The benefit of not being able to withdraw money is that you have a much longer time frame to save for without the temptation of taking bits out. However, you will need to be certain that you won't need that money in the future, as once it's saved it is locked in and belongs to your child.
Junior ISA Historic Allowances
We mentioned that the increase in Junior ISA allowance between 2019/20 and 2020/21 was significant, but to better understand it, it is worth looking at how Junior ISA allowances have historically changed since this type of account was created in 2011, up until it reached the current allowance of £9,000 in 2020/212.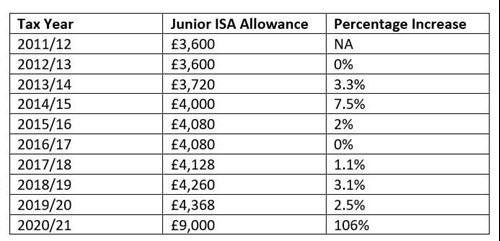 It is worth noting that while historically the Child ISA allowance has increased, it is not certain and as the limits are set by the government in charge, it is possible for them to decrease.
How does the Junior ISA allowance changing impact my account?
This is a common question, and due to the frequency that the child ISA limit changes, it's completely understandable.
The easiest way of looking at the allowance, is to consider saving into a Junior ISA as a journey. What's behind you can't be changed, you know exactly where you currently are, but what's ahead of you is still a bit of a mystery.
With your child's ISA, allowance changes don't impact any savings you've made in your previous years – so, for example, if you saved the full £4,368 in 2019/20 you wouldn't be able to add anymore despite the allowance increasing for the 2020/21 tax year. But similarly, if you were able to maximise the £9,000 limit for the 2023/24 tax year, and they decreased it the year after, then the money you've already saved would still be enclosed in the tax-free wrapper of a Junior ISA.
This is one of the reasons why it could be a good idea to try and put as much into a Junior ISA as you can afford each year. Not only does it help to build your child's financial nest egg faster, but it allows you to take advantage of higher allowances in case they decrease in the future.
What's the limit for Child Trust Funds?
Child Trust Funds have now been replaced by Junior ISAs, however there are many CTFs still in circulation as they were automatically opened for any child born between 1st September 2002 and 2nd January 2011. Check out this blog to learn more about how to find a lost CTF.
The limits for a Child Trust Fund are the same as those for a Junior ISA, which means that for the 2023/24 tax year you can put up to £9,000 away for your little one.
If you still have a Child Trust Fund, then you are able to continue to contribute to it, but if you want to move from a CTF to a Junior ISA then you will need to transfer the full amount.
Does the government contribute to a Junior ISA?
This is a question that typically comes as a result of the Child Trust Fund, where the government used to pay up to £500 into the child's account.
However, a Junior ISAs operate a little bit differently. With a CTF, an account was automatically created for your child when they were born, and contributions were automatically made by the government based on your financial situation.
While Junior ISAs and Child Trust Funds have the same allowances, the former isn't automatically set up, it is the parent or guardian's decision to start saving for your child. In addition to this, the government removed their contributions from this savings option.
That may seem like a bit of a let-down, but with Junior ISAs you benefit from having a wider range of providers, more flexibility to transfer, and the option between Cash and Investments.
How many Junior ISAs accounts can I have?
Unlike Adult ISAs, where you can have as many different accounts from previous tax years as you want, each child is only able to have one Junior Cash ISA and one Junior Stocks and Shares ISA.
This means, that if you set up a Junior Cash ISA but got tired of low interest rates and wanted to get more potential through investing, then you would be able to open a Junior Stocks and Shares ISA as well. However, if you found another Junior Cash ISA which was paying better rates, you would need to transfer any savings you'd previously built up into the new account and close the old one.
How to use my child's ISA allowance?
This will depend entirely on you, your personal finances, and how you're planning to save. Adding to your child's ISA little and often can have a significant impact, even if it doesn't feel like much.
For example, if you put just £35 into a Junior Investment Account every month from when they were born, by the time they're 18 they could have around £10,435 waiting for them – although, do keep in mind that this projected value may vary depending on market performance also fees and fund charges apply.[3] That could go a long way in helping towards moving into their first home or buying a car.
It's worth noting that the earlier you start saving for their future, the more potential you're giving their money. This is because of a handy little thing called compounding – which is where any profits you receive are re-invested and able to create profits of their own. Over time these profits can really add up and the value of your plan will reflect this.
How to open a Junior Stocks and Shares ISA?
If you've decided that you want to teach your little one about the potential of investing, using the time between now and when they turn 18 to improve your chances of delivering long-term gains, then opening a Junior Investment ISA couldn't be easier.
Thanks to digital investment platforms, like Wealthify, opening a child Investment ISA is a task that can be done in minutes. Simply choose how much you want to invest, pick an investment style that suits your needs, and our team of experts will do the rest for you. Sit back and watch as we build a plan for your child with a range of different investments from all around the world.
One benefit to investing, is that you can choose to use your child's money to help drive a positive change in the world through an Ethical Junior ISA. Choosing this option ensures that all of your child's investments go into companies and organisation who are committed to delivering a positive impact on the environment and society – effectively, giving you the opportunity to build a better world for their future.
References:
1: Bloomberg Data
2: https://www.fool.co.uk/investing-basics/isas-and-investment-funds/historic-isa-allowances/
3: This is the projected value for a Confident Plan (Medium Risk Plan) with an Original theme. This is only a forecast and is not a reliable indicator of future performance. If markets perform worse, your return could be £8,162. If markets perform better, your return could be £13,391. Values correct as of 18/05/2023
Your tax treatment will depend on your individual circumstances and it may be subject to change in the future.
Please remember that past performance is not a reliable indicator of your future results. 
With investing, your capital is at risk, so the value of your investments can go down as well as up, which means you could get back less than you initially invested.