The coronavirus lockdown has had a huge impact on our daily lives, whether it's the way we work or spend our free time. At Wealthify, we've quickly adapted to the new 'normal', and with our team staying at home and working remotely, we thought we'd keep you updated about how we've been coping in lockdown. So, we've asked our CIO and co-founder, Michelle Pearce-Burke, some questions about her lockdown experience. Here's how her life has changed in recent weeks.
How has 'lockdown' impacted your life, and could you share your typical day with us?

Michelle Pearce-Burke: My new routine is rather samey, which can be frustrating because I like variation in my life, and it is hard to get this in lockdown.
My day always starts with Radio 4's Today programme. It serves as my alarm and it's a great way of quickly getting up to speed with what's going on in the world. I listen for about 30 mins before rising at 8am to start my morning routine, which I won't bore you with. I'm not a morning person so efficiency is key!
I sit down at my home desk at about 8.30am – typically starting the workday by browsing the pages of the Financial Times and other industry news. I enjoy this quiet time at home, as when I try to do this in the office, I'm typically bombarded by distractions. I then have bite-size virtual catch ups with my teams to keep up good communication and check on what we're all up to. It's really important that we keep up the regular interaction at this time from a productivity and mental health perspective.
I have quite a lot of meetings throughout the day which are now all virtual. There are pros and cons to virtual meetings, the pros being that they tend to be faster, more efficient, and people more punctual to attend. The cons are that quieter people get lost from the conversation more, so you must work harder to include everyone. It can also be frustrating when people have sketchy internet connections and audio breaks up or video doesn't work.
One advantage of being at home is I do find it easier to escape the desk for a lunchbreak. In the office, it's rare for me to take one as there's always so much going on and it's become a habit to simply eat at my desk. But at home, I feel more organised and in control of my time and my day, so can make time to catch up with my husband over a sandwich, walk the dog or maybe mix up some bread dough for cooking later (a new lockdown hobby!)
In the evening, I'll get out for a walk with my pup, Lola. I'm imminently expecting my first child, so I can't exercise much more than that, but it's nice to get some fresh air. After dinner, I try not to watch too much TV, as I fear that's an easy lockdown trap to get sucked into! Instead I may read a book, chat to my husband, catch up with friends / family, or more recently I have been frantically painting and sorting the nursery. I actually feel like I have more energy in the evenings now so I get much more done than I used to.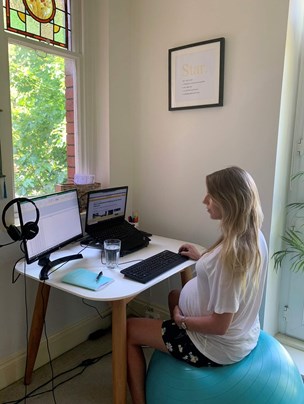 How has lockdown impacted the way you work?

Michelle Pearce-Burke: I like being in an office and having people around, so I wasn't looking forward to working remotely when we first started planning for it. But I have to say, I've adapted pretty well. I'm lucky enough to have an office space, which helps my productivity and makes it easier for me to separate work from home. Despite lockdown, my priorities remain the same, and it's business as usual for all of us at Wealthify.
Obviously, Covid-19 has had a significant impact on stock markets and the economy worldwide. Unemployment is on the rise, many people have been furloughed, and governments have taken extraordinary measures to try and limit the crisis. Markets have been very volatile over the last few months, so as an investment team we've had to be very reactive and make changes to our customer Plans to shelter their investments from the bumps and take advantage of opportunities as they arise. Typically, we would adjust Plans four or five times a year, but through these unprecedented times, we've had to make a year's worth of changes in just a couple of months. Customer can remain assured that their investment are getting plenty of attention!
Are there any challenges you've had to deal with during lockdown?

Michelle Pearce-Burke: On the professional side, it's been quite challenging to recruit new people for the company. As I've mentioned earlier, it's business as usual at Wealthify, and as the company grows, we continue to recruit and need to hire new people. We've had to change the way we interview – it's now all done virtually. And whilst it has allowed us to find new talents, it's always a bit harder to get a sense of someone across a computer screen. It also makes it tricky to welcome new people. We're a good bunch and love embracing new people, but because of lockdown, it makes it a bit more difficult, and we are having to adapt.
On a personal level, I'd say that it's not been the best time to be pregnant. Appointments are getting cancelled and connecting with other mums-to-be has been difficult. Also, since we don't know yet how the virus affects pregnant women and babies, I've had to be more cautious and try to avoid places where it's hard to practice social distancing… However, the upside about being pregnant right now is that I haven't needed to spend too much on maternity clothes for the office!
Do you have any tips to help people go through these difficult times?
Michelle Pearce-Burke: It's important to keep talking to other people. It's easy to slip into a bubble and ignore messages or calls, but humans are social animals and being in touch with other humans will make you feel better. So, try to reach out to someone and have a proper chat with them, whether it's over the phone or a video call.
Also, make sure you spend time outside, even if you're not exercising. People watching is a strangely satisfying hobby and can make you feel less isolated.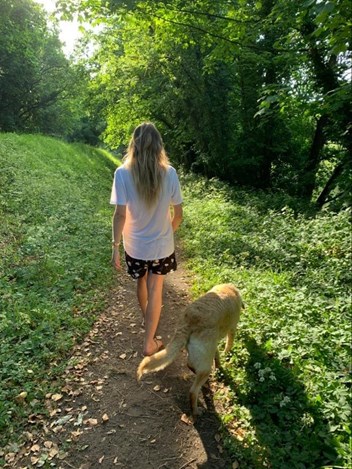 Do you think lockdown will change us and the way we live in the future?
Michelle Pearce-Burke: Absolutely. Firstly, I think there will be an acceleration of digitisation in the way we work and the services we interact with. We have come a long way in the past decade, but there's far more to go. This crisis has forced businesses and people to adapt fast and adopt technologies quickly, meaning things like remote doctor's appointments and online education, which were previously used sparsely and with suspicion by many, have become the norm overnight. This trend should benefit services like Wealthify who operate purely in the digital space. The rise of remote working is an obvious benefactor that will undoubtedly be here to stay,
The demise of globalisation is another trend. Covid-19 has highlighted the vulnerabilities in global supply chains and has caused people to become more insular. It has encouraged some companies to accelerate this thought process, and I think on an individual level, there is a greater appreciation of local businesses, a sense of community and in some places a reignition of national pride.
The furlough scheme which has been accessed by millions will have a lasting place in all our memories. From the very real debt we have incurred as nation in funding it and the impending recessionary environment we are forecasted to enter, to the less tangible impact it has had on the individuals and families affected by it, we will be changed.
Finally, on a separate note, I am encouraged to see the overall shift in attitude of the general public toward the medical profession and the increased appreciation of the NHS. For too many decades, healthcare professionals have seen their importance overlooked, been treated like a commodity by the state, and as a result have suffered spiralling working conditions due to bad management and lack of funding. It's a shame it's taken this crisis for us to realise the value of the NHS and the people within it, but I'm pleased it's come and I think it will stay and that we will see improving conditions for those on the front line and hopefully improved standards of healthcare.
Please remember the value of your investments can go down as well as up, and you could get back less than invested.