If you want to make the most of your pensions, it could be a good idea to review your pots, that way you can ensure your savings are on track with your retirement goals.
And if they're not, then perhaps it's time to consolidate your pensions, which just means bringing them all together. Here's what you need to know about pension consolidation.
What is pension consolidation?
The thing with having many pensions from previous jobs is that it can make retirement planning a bit difficult, especially if you can't remember where your pots are. If you want to take control over your savings, consolidating your pensions could help, and by this, we simply mean combining all or some of your pension pots into one.
Why consolidate your pensions?
Well, there are many reasons to consolidate your pensions. The most obvious one is that it would make your life a bit easier as you'll only have one pot to look after and monitor. Think about it, pension providers have their own rules, so the more pension pots you have, the more confusing it can become. With one pot, you'll only get one set of rules, which should make things easier and more manageable over the long-term.
Bringing all your pensions in one place also means you'll only have one set of fees to pay, which in the long run could make a huge difference to how much you get return at the end – remember fees will eat into your profits, so it's important to try and keep them to a minimum, and pension consolidation could help you do just that.
Another reason to move your pensions in one place could be poor service. If you're disappointed with the investment strategy or customer service of some of your providers, then it could be worth looking at other options. Similarly, if you want your investments to have a positive impact on the environment and society, then why not move all your pensions to a provider that offers ethical pensions?
What are the consolidation rules?
Consolidating your pensions comes with many different rules, and if you want to move your pots somewhere else, it's important to familiarise yourself with these rules.
Consolidating a defined benefit scheme can be quite complicated, and if your pension savings are worth £30,000 or more, you'll be required to take financial advice before moving anything, as upon transfer, there's a risk you could lose some of your pension benefits (e.g. final salary promise – where you're guaranteed to receive what you were paid when you retire).
Not all providers will accept the transfer of a defined benefit scheme, so it's important you check before requesting a transfer.
Similarly, some providers will not accept a transfer if you're already taking an income from your pension.
Some pension providers will charge an exit fee for transferring out before a certain date, so make sure you ask your current providers about their transfer policies.
If you've decided to transfer a pension, it's important to check the different rules and you may want to seek financial advice, so you can make the right decision for your later life.
Should you consolidate your pensions?
We'd like to give you an answer, but it really depends on your personal circumstances and preferences. Perhaps ask yourself the following questions:
Are you satisfied with your current providers?
Do you find it difficult to manage your retirement savings?
Do you want to have everything in one place?
Before you consolidate your pensions, there's a few things you should be aware of. Pension consolidation can require your investments to be sold, so they can be converted into cash, transferred over, and then invested by your new provider.
This means you could find yourself with less money after the transfer is completed if the value of your investments is down during the sale. This is something worth having in mind before you make any decision.
How to consolidate your pensions
If you've decided to consolidate your pensions, that's great, but make sure you're happy with your new provider. It's always worth shopping around and comparing what different providers have to offer – and we're not just talking about fees here, it's also important to look at the service as a whole.
What kind of pension are they offering? Where is your money invested? How easily can you check the performance of your pension? What is their withdrawal policy? What are other customers saying about them?
If you don't know where to start your research, why not look at robo investors? At Wealthify, consolidating your pensions has never been easier! You get to choose how much to put into your personal pension – you can start with just £50, whether it's upfront or per month. And for every contribution you make to your pension, you'll automatically receive 20% tax relief on it – this is to compensate for the income tax you've already paid.
So, say you put £800 in a personal pension, you will receive an extra £200 from HMRC. Now if you do the maths, £200 is 25% of £800, meaning you're effectively getting a 25% top-up on every contribution you make. Please note that this only applies to the first £60,000 (or 100% of your earnings, whichever is lower) you put in your personal pension – this is your pension annual allowance, and it includes all contributions made by you and the government.
With Wealthify, you can also set your risk level, from Cautious to Adventurous, and our team of experts will manage your money based on your investment style, ensuring your retirement savings are working as hard as you do.
Once you've chosen your new provider, you'll need to know where your pensions are. But if you've lost track of your pots, don't worry, it should be pretty easy to lay hands on them.
All you need to do is go on the HMRC website and fill in a quick online questionnaire, and you'll be given the contact details of your pension providers: https://www.gov.uk/find-pension-contact-details.
To make the transfer a bit easier, you may want to gather all the paperwork you'll need to move your pension – this will typically include a copy of your ID and your latest pension statements. Then, you can contact your new provider and let them know you want to consolidate your pots – they should do the hard work for you and contact your old providers to get the transfer process started.
But in some cases, you may have to contact them yourself, especially if they object to the transfer or need further confirmation, but you will be told if this happens. And if anything is needed from you, your new provider will let you know. Pension transfers can take between two week and six months before being completed – this will depend on the type of pensions you are transferring over.
If you have any questions about pension transfers, please feel free to contact us on 0800 802 1800, or via Live Chat. Working out how much you need to save in order to retire can be tricky, but luckily, our pension calculator does all the hard work for you. In four simple steps, you can get a good idea of whether you're on track or not. Try it today and see what you could get.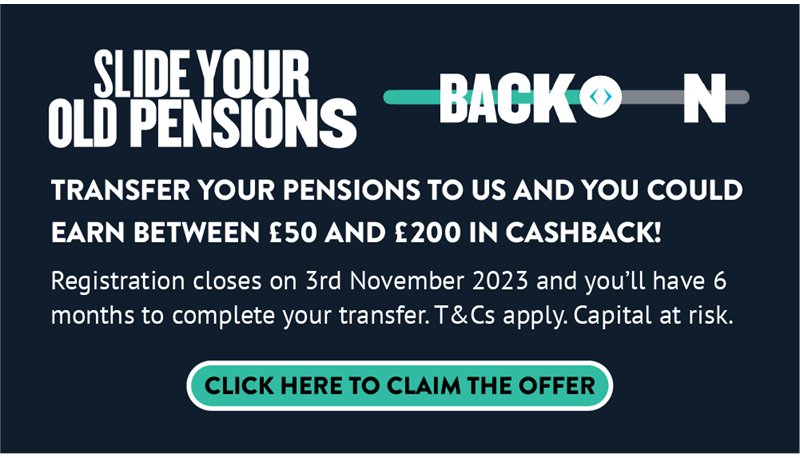 The tax treatment depends on your individual circumstances and may be subject to change in future.
Please remember the value of your investments can go down as well as up, and you could get back less than invested. 
Wealthify does not provide financial advice. Seek financial advice if you are unsure about investing.