When we started Wealthify six years ago, we were a very small company. We knew exactly what we wanted to do, had great ideas on how we could do it, and we've grown and grown since then. And like anything that grows, sooner or later you outgrow things – in this case, our app.
There were technical and design reasons for changing our app, and we'll cover both. To get a better understanding of the thinking behind the re-design, we caught up with Ria – our Head of Design.
Why did we redesign our app?
Our original app has been around for a while, and as standards change, we could see it becoming outdated. There were a lot of things we knew we could improve as we have a greater understanding of our customers and how they use the app, so we were able to prioritise what's important and restructure it to make these things easier to find.
One of the things we focused on when building a new app was to look at accessibility. We wanted our app to be inclusive in every possible way. In our designs, this fed into everything from the language to the colours being used. We've built it to work flawlessly with the native accessibility apps on both android and iOS, which will allow you to change the font size and weighting, use a screen reader, and even provide a voice over for what's on the screen.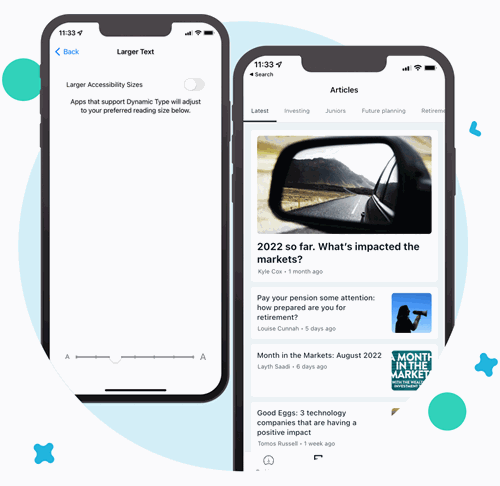 How did you build an app for everyone?
To make sure that our app works well for everyone, we've focused on two things – simplicity and consistency.
How is the new app simpler?
Multitasking is difficult. Our new app only focuses on one thing at a time, then makes it very clear what's needed from you and what your next steps are. We've done this across every aspect of the new app, from creating a Plan through to making a withdrawal. And, if you find yourself in the wrong place, or you change your mind, then it's also easy to go back a step or return back to the Dashboard.
There are also a lot of ways the app is faster and easier. For example, there are now less steps to create a Plan. You'll see plenty of small improvements like this all over the app, these aim to make it much easier to see what you're invested in, understand your Plan details, and much more.
What's the importance of keeping things consistent?
While a lot of our design has been focused on people who need more accessibility options, everyone benefits from these improvements. It's cleaner, clearer, and easier to understand which also makes the app more useable.
Consistency helps to reduce the learning time for a product since users get familiar with the given experience.
We've tried to put things where you'd expect to find them and make sure that it all looks and feels the same, meaning that you only need to actually find it once, ideally on the first try. To do this, we've matched our design to many other apps that are already on your phone, giving you a familiar layout and navigation, which will help to reduce the learning curve of our new app. For example, we've made changes to the navigation in our app by using one simple menu to help you easily find your way around your dashboard.
Did it need to look so different to the old app?
Most people don't like change. We know that. In fact, it actually took our team some time to get to grips with the new look and feel of it themselves. But we didn't just change things for the sake of it. And like us, we're sure you'll grow to love the new app just as much as you did the old one.
As we've already mentioned, a key priority for us was ensuring our new app was accessible for all. And if you're visually impaired or struggle with processing written information due to a condition like dyslexia, then it can be difficult to read text if the colour of it is too light or too similar to the background it's placed on. Even something as simple as looking at something on your phone in bright sunlight can be tricky if the page you're viewing has the wrong colours, so we've kept this in mind when choosing the ones for our new and improved app.
Not only that, but we want to keep up with the times by keeping our products fresh and modern and ensuring that they're visually pleasing too. So, we've gone for a sleeker and more contemporary feel to reflect this.
Does the app have any new features?
Of course, it wouldn't be a re-design without some great new features too. One of these is our 'Investment Projections' which lets you see how the value of your investments could change if you change your investment theme, risk level, or the amount that you're paying in.
By making this really obvious, we're aiming to give you a better understanding of your long-term goals, the different things that you could try to get there, and ultimately, finding an investment solution that works for you.
We've also made our graphs much clearer – and larger, thanks to landscape view! Part of this work has also laid down the groundwork for more interactive charts in the future.
Oh, and by popular demand there's now a Dark Mode. Our Dev team have been begging us for this for ages, and now it's a reality!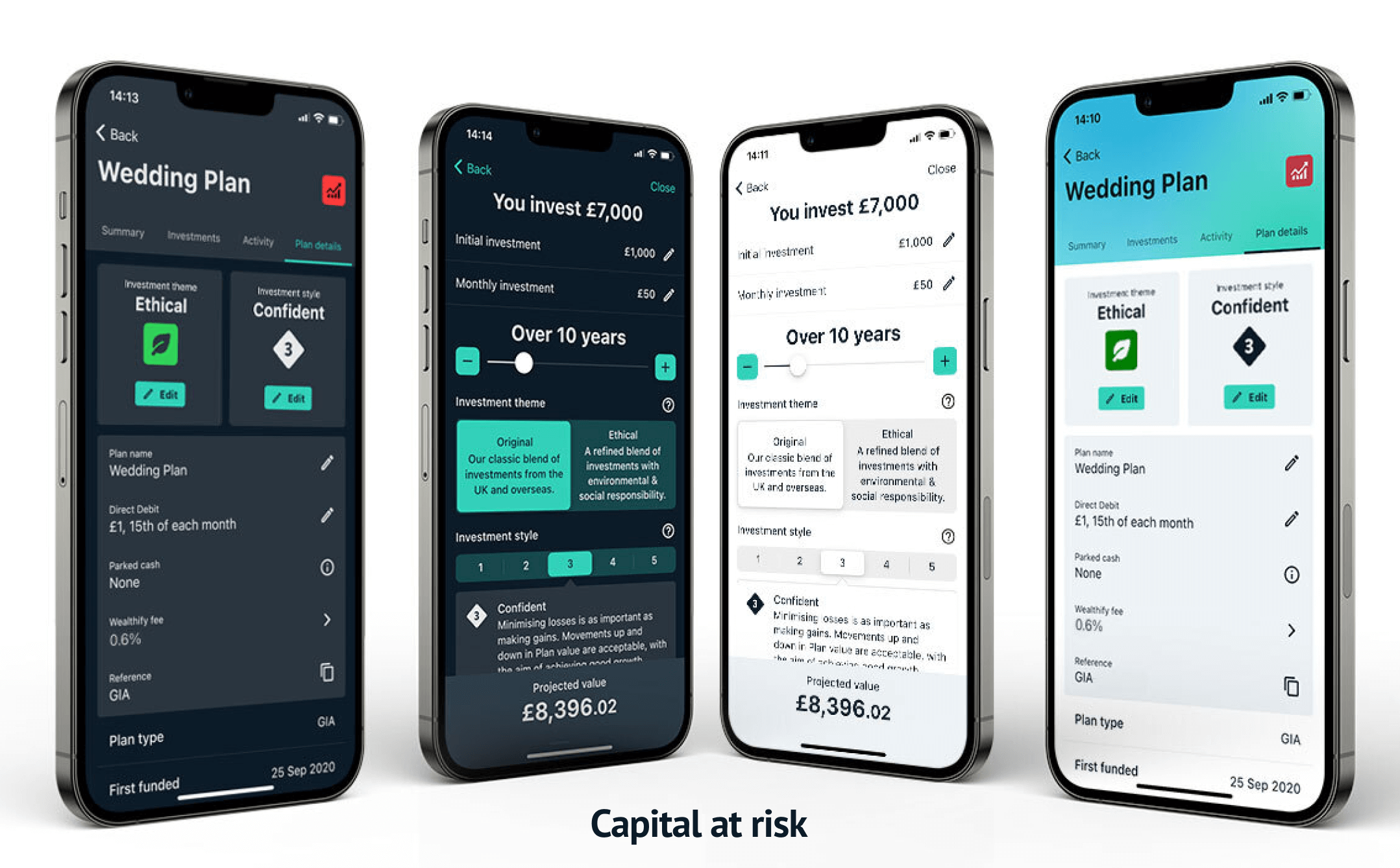 Building the app you really want
Making all these changes is great, but before we did anything, we wanted to make sure that this was something our customers would like to see. To do this, we carried out a huge amount of research, speaking directly with our customers to understand what they like or dislike about our existing app, finding out how they use it, and what they'd like to be able to do with it.
We held 1-on-1 user test sessions with our customers to get a real feel for how people used it and sent a survey to all our app users to back up our findings with data.
All of this information helped us to lay out the navigation, decide which features were most important, what we needed to introduce to the app, and even decide what type of imagery to use.
This entire redesign has been built to help give our customers exactly what they want, and we're always listening to feedback so that we can keep updating it to offer the best service possible.
If you want to help us test our new app, you can join the beta here if you're on Android, or here if you're on iOS. For everyone else, the app will start rolling out gradually in October. We can't wait for you to try it out!
For our Plan Projections, we use forecasting tools to provide predictions to provide an indication of how the markets may react over the time frame chosen. Please remember that these are forecasts and may not be a reliable indicator of your future performance.
With investing your capital is at risk, so the value of your investments can go down as well as up, which means you could get back less than you initially invested.