Firstly, I hope this finds you and your loved ones safe and well. This is a challenging time for all of us, as together we face unprecedented uncertainty in our daily lives.
I wanted to write to you directly to let you know about the measures we're taking at Wealthify to ensure your investments are looked after and our service continues to run smoothly during this time – hopefully giving you one less thing to worry about.
Your Wealthify Service
At a business level, our operations are thankfully minimally impacted, so we can keep delivering you the same robust service as usual.
The majority of our team are now working from home, with a small number of people in the office, observing appropriate procedures to minimise any risk of infection. Please rest assured that our remote working practices allow us to continue to operate with the same security and data protection standards as usual. If you have any questions or concerns, day or night, we encourage you to get in touch with us through our normal channels.
If we are unfortunate and experience a spike in staff illness, this may slow down our response times, but we will let you know if this happens, and get back to you as quickly as we can.

Your Investments
We understand it's a difficult time to be an investor. The UK stock market has fallen more than a third in under a month, and other markets around the world have done the same. The declines have been deeper and more severe than anybody could have expected.

I know that our Investment Team are working tirelessly looking after your Plan in these turbulent times. They're closely monitoring what's happening in the markets and adjusting your Plan when needed. This is something we have already done twice in recent weeks, taking advantage of falling share prices to buy into the market dips. We remain ready to act in the coming days and weeks as the situation evolves.

We know it's never comfortable to see your Plan drop, but it's essential to bear in mind the big picture and remain focused on your long-term goals. Whilst nobody can precisely predict the future, markets do tend to recover over time.

From all of us at Wealthify, I wish you the best through this tough time and want to thank you for your continued business and trust in us.
We will stay in touch regularly over the coming weeks, but if there's anything you'd like further information about, please do get in touch on 0800 802 1800, by Live Chat, or send us a secure message. We're here weekdays from 8am until 6:30pm and Saturdays from 9am until 12:30pm, and the team will be happy to help.
Best wishes and stay safe.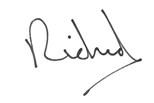 Richard Theo
Wealthify CEO