The festive season is upon us, so I personally wanted to get in touch to say happy holidays and thank you for being a valued Wealthify customer.
Despite a stagnant Bank of England interest rate and weathering a political roller coaster of a year, 2019 has seen a year of great performance across our plans.
Over the last 12 months, customers with an Original Confident Plan would have seen a 8.58%[1] return, and those with an Ethical Confident Plan saw an even better performance with an impressive return of 9.85%.
When we founded Wealthify, we had a clear mission in mind – to make investing easy and accessible for everyone and help make your money work as hard as you do.
Five years on, we continue to work hard to enhance our services and add new features, but always retain the essential simplicity our customers have come to expect. Here are some of our 2019 highlights:
At the start of December, we moved to one competitive flat-rate management fee, lowering fees for 80% of our customers. One customer, following this announcement, tweeted; 'Blimey, you don't get many emails like that!.'
We're also rewarding our loyal customers with a new Refer a Friend scheme – giving you and your friend £50 each when they sign up to Wealthify. Check it out in the app or online, if you haven't already. (T&Cs apply).
Earlier this year, we made investing for your family even easier and launched our award-winning Junior ISA, helping you to save for your children's future. 
And, with all things 'green' rarely out of the news, we're delighted to have seen huge growth in the take-up of our Ethical Investment Plans, and we continue to enhance the investment strategies behind these portfolios.
We're ending 2019 on a high with a number of recent award wins, making our trophy cabinet look fuller than a centipede's sock draw (sorry, but had to get a Christmas cracker joke in somewhere)!
As we look to the new year, I'm excited about introducing our Wealthify Personal Pension (SIPP) – helping you maximise the money you set aside for your golden years.
I'd love to hear your thoughts about Wealthify, what you think we should work on next, and anything else you'd like to share. You can tweet me directly @richbtheo or you can get in touch with our team.
Have a wonderful Christmas and a prosperous New Year.
Best wishes,
Richard Theo
Wealthify CEO and Co-Founder
Here's how we performed across the full range of Wealthify Plans, from Cautious to Adventurous, between 30th November 2016 and 29th November 2019 for Original Plans and 30th November to 29th November for Ethical Plans, after all fees have been taken (based on 0.60% Wealthify management charge). These figures are based on the performance of Plans worth more than £750, and will be different for Plans below that amount.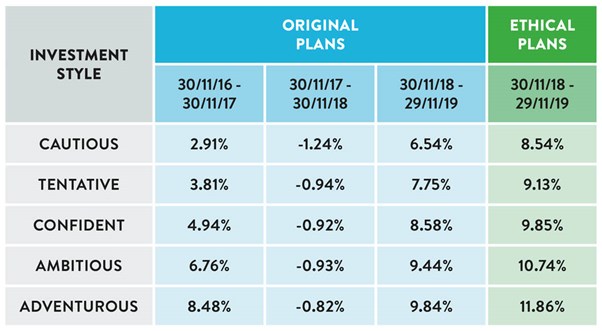 [1] NOTE: The above table illustrates past performance since we started offering Original Plans and Ethical Plans (Ethical Plans have only been available for just over one year). The past performance data shown is simulated, but it represents real transactions we've carried out for actual customer Plans across each of our Investment Styles. Past performance is not a reliable indicator of future performance.