It's hard to look back at a second year of the Covid pandemic in just terms of markets and economics without first thinking about the human impact and toll this year took on everyone. From all of us at Wealthify, we hope that your 2022 is safe, and our thoughts are with those affected by the virus and the heroes working on the frontline.
Every year we like to take a look back and reflect on what happened over the prior 12 months and how this affected the markets – it's amazing what you might have forgotten about from the start of the year – especially when it's been as eventful as 2021 (and 2020) were. And while we'd like to say that 2021 wasn't a case of déjà vu, it certainly felt like it at times.
That's why, for this year, we're going to cover off all the things that stayed the same from 2020 before looking at what made 2021 stand out.
What was similar?
You can't look back at the last few years without talking about Covid, and 2021 really was the year of the variants. There were a number of new Covid variants discovered last year, with the starkest being Alpha, Delta and Omicron which all caused wobbles across the markets. Luckily, 2021 has also been the year of vaccine roll outs – with many countries having strong programmes to get large portions of their population vaccinated to facilitate the re-opening of economies. This morphed into a third 'booster' vaccine being offered to people towards the end of the year.
We've also seen Central Banks and governments continue to stimulate the economy as best as they can by supporting households and businesses through furlough schemes and loans. However, there have been a few differences in 2021 from the previous year, due to the reduction in support as governments and Central Banks look ahead to a post-pandemic world.
In 2020, we saw a huge increase in ethical investing, and this did not slow down during 2021. In fact, in the last year, the uptake of ESG investing has continued to push this approach into the mainstream. Whether this shift is due to investors wanting a greener, cleaner future or them simply believing that a more ethical approach is key to future growth is up for debate, but the growth of this sector has been significant, nonetheless.
What was different?
Not everything was the same as last year, and one of the big stories to burst onto the scene in 2021 was "meme stonks" most prominently in the form of GameStop's stock price rise. If you missed out on this story, it showcased the power that retail investors can have when they are organised and working together. In this situation, a subsection of the social media website Reddit called 'Wall Street Bets' took on US hedge funds by snapping up shares of video game retailer GameStop to drive the prices up from $18.84 on 31/12/2020 to a peak of $347.51 on 27/01/2021 before crashing to $50.31 by 08/02/2021.
These sharp movements were driven by investors following the 'memeification' of investing, which happened at several points throughout 2021. The idea of this form of 'investing' (or rather speculation!) is that decisions are based on memes that typically spread through social media. And this hasn't just been limited to stocks either, as the price of silver has also seen a sharp rise followed by a firm decline. There have also been a number of cryptocurrencies created this year that have followed this same pattern.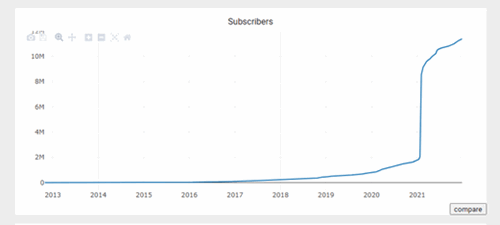 Figure 1: Wall Street Bets subscribers, source: Reddit
We did see crypto continuing to have a strong but volatile run during 2021, although in our opinion, their high volatility and high risk still makes it difficult to truly value this type of investment. For example, Bitcoin rose 135% YTD (Year-to-Date) to reach an all-time high in November, before losing 31% to close the year out at 61% up from the previous year.[1]
One of the major reasons for growth in cryptocurrency was caused by wider institutional adoption, with institutions like Paypal announcing in October that it would allow users to buy, sell, and hold cryptocurrencies in their accounts. The Bank of England has also announced that it would be looking to explore a Central Bank Digital Currency (CBDC), although they quickly added that no decision has been made on whether to introduce a CBDC into the UK. El Salvador, on the other hand, has taken a much more aggressive stance and is now the first country to make Bitcoin legal tender.
One of the major challenges we saw in 2021 was concerns around inflation. This started in the first part of the year, as supply chain issues hit, causing inflation to accelerate before easing during the summer and then returning with a bang towards the end of the year. But what is 'inflation'? Put simply, it is the measure of how much the of price of goods increase over time.
We mentioned that one of the similarities between 2021 and 2020 was the uptake of ethical investing, and one big change this year was the COP26 summit (Conference Of the Parties) which was held in Glasgow between October 31st and November 12th. This event, which takes place almost every year, causes world leaders to come together to discuss the measures that are being used to tackle climate change as per the Paris Agreement.
Although, in parts, the agreements achieved fell short of what many people were hoping for, there was a strong case of COP26 providing some progress. For example, we saw many countries agreeing to reach carbon neutrality by 2050, but this agreement came without China or India agreeing to move away from coal-generated power. We've provided a summary of the outcomes of COP26 here. 
How our Plans did
Although 2021 may have felt like more of the same, we started the year in a much better position to deal with the pandemic and that has provided much support to stock markets. Naturally, uncertainty crept into investors' minds at various points throughout 2021 as global economies continued to reopen among lingering concerns over the management of Covid-19. Overall, however, the stock market had a strong year.
When negative events occur, investors often flock to putting their money in safer assets, such as 'bonds', and this was true at various points in 2021. This created volatility in bond markets too, but unfortunately for them, a risk-taking attitude paid off better and, the bond market ended the year in negative territory as investors moved away from this asset class to protect against the pressure of rising inflation.
Often seen as a middle ground between bonds and shares, it was 'property' that provided the strongest returns for our Plans as economies reopened.
Overall, our Plans ended the year on an up, which we are delighted by and hope our customers are too. 2021 was again a year for risk-taking, with Plans that held greater amounts in shares and property outperforming Plans that held more in bonds. Our Ethical Plans also marginally outperformed our Original Plans.
With investing, your capital is at risk, so the value of your investments can go down as well as up, which means you could get back less than you initially invested.
Please remember that past performance is not a reliable indicator of your future results.
References
Figures from Bloomberg and in GBP vs. Bitcoin
https://www.reuters.com/technology/can-reddits-silver-apes-beat-market-2021-07-09/
https://www.thestreet.com/etffocus/trade-ideas/will-wallstreetbets-crowd-come-after-silver
https://www.wired.co.uk/article/defi-gamestop-memes-doge-musk
https://subredditstats.com/r/wallstreetbets
https://www.bloomberg.com/news/articles/2021-12-31/bitcoin-is-ending-its-bang-of-a-2021-with-a-winter-whimper
https://www.bankofengland.co.uk/news/2021/november/statement-on-central-bank-digital-currency-next-steps
https://theconversation.com/bitcoin-is-now-legal-tender-in-el-salvador-heres-what-that-means-167099