2019 brought another year of great investment performance for Wealthify customers. We are delighted that all our Plans posted strong gains for the year, with many showing double digit growth. Our top performing Plan has now grown by over 40% in less than 4 years!
2019 performance figures
The table below shows our simulated* 2019 performance figures for both Original and Ethical Plans.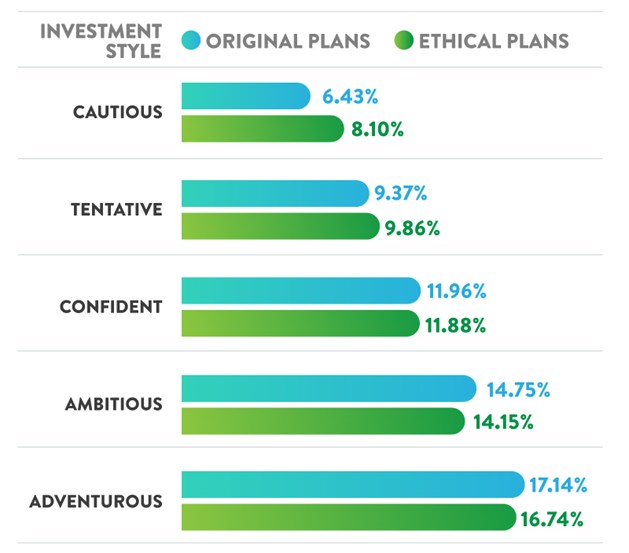 All Time Performance
The graphs below show the simulated* performance of our Plans since they started, after all fees have been taken.  We regularly update our performance numbers on our 'How we invest' webpage.
ORIGINAL

 ETHICAL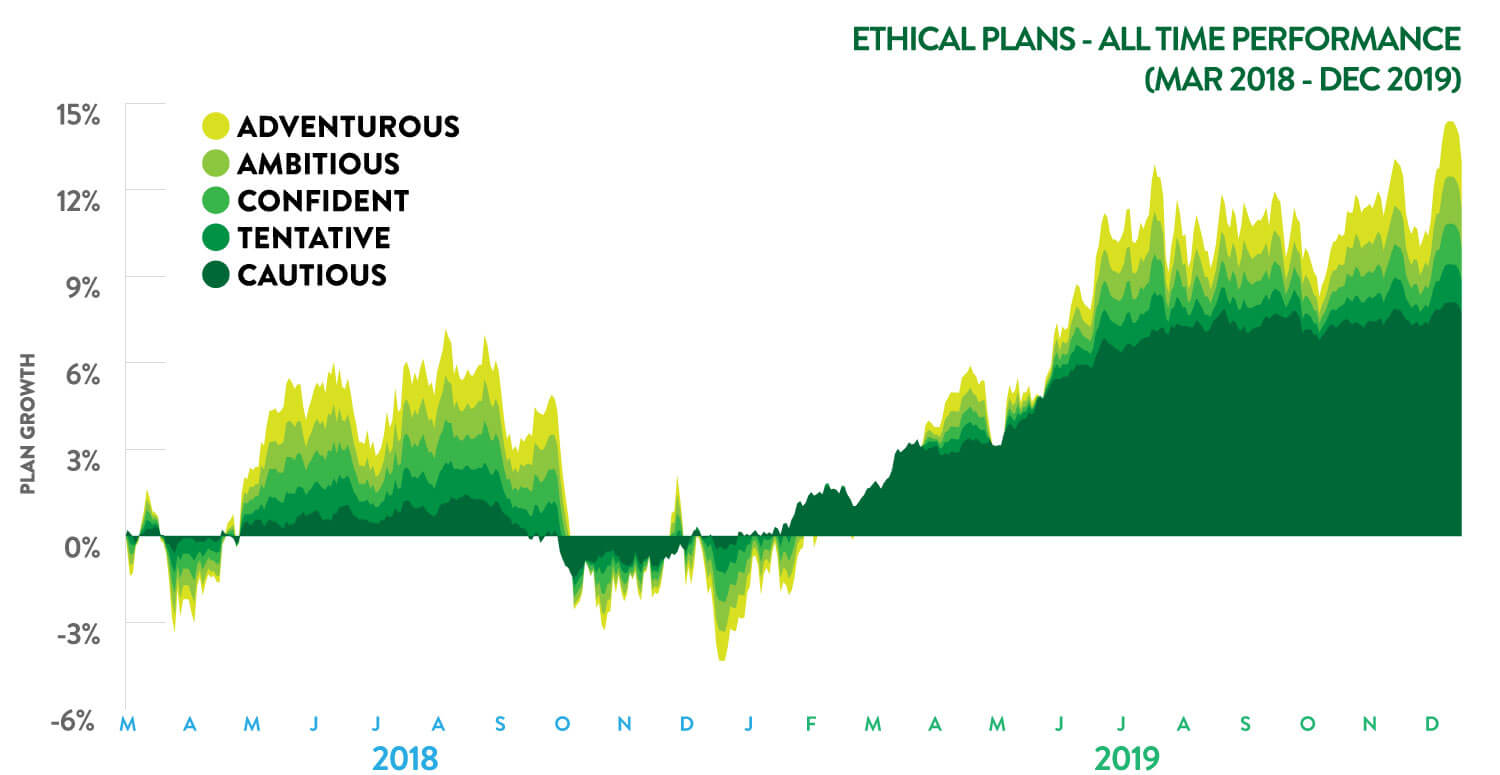 Figures in this blog are based on past performance and past performance is not a reliable indicator of future results.   
How the markets performed in 2019
In our Plans, the key stock markets that contributed the most to our 2019 returns were the US, and our UK medium sized companies (known as the FTSE 250), with Asian and Emerging Markets regions performing well, but at the bottom of a strong pack.
The US market surprised many by posting stellar returns and repeatedly making new record highs. There were occasional wobbles caused by President Trump's unpredictable Twitter storms and intermittent escalation of the US-China trade war, but overall markets remained optimistic because the US Central Bank (aka The Federal Reserve) pre-empted some of the year's weaker manufacturing data by lowering interest rates – which was good for bonds and stocks.
Closer to home, the resounding win for Mr Johnson in the General Election brings more certainty to the UK economy and the strong Conservative majority in the House of Commons means we're likely to see the Tories fulfil their promise to get Brexit done. The result has boosted our local stock market, the FTSE 250, pushing it up over 7% in the last six weeks of the year and providing some optimism for the Pound, which strengthened in the run up to the election.
The year also saw climate change take centre stage, with heightened activity globally from the Extinction Rebellion movement and the global prominence of activist Greta Thunberg. In late October we added a fund that invests specifically in the environment to our Ethical Plans, which delivered an almost 7% return in under three months.
The Wealthify Approach
At Wealthify, our dedicated Investment Team work tirelessly to optimise the performance of customers' Plans. We use technology to increase the efficiency of our decision-making process and have a powerful suite of analytical tools, which helped keep a watchful eye on markets throughout 2019 – in particular, they provided early warnings on political and market changes.
Our philosophy is to look at medium to long-term trends in the market, focusing on making the right decisions about the mix of investments we use, and the regions we invest in. We do not choose particular stocks and believe that the best approach is either using funds that track the wider stock market for our Original Plans or outsourcing to experts for our Ethical Plans. This worked well for us last year and, whilst customers did see periods of turbulence in their Plans, our 2019 performance figures show that a patient approach does pay off. You can read more about our investment philosophy here.
2020 and beyond
2020 is already set to be an interesting year for financial markets. We are optimistic about the outlook for global markets, but recognise that, as always, there are risks we need to keep a close eye on.  Whatever happens, you can rest assured that the Wealthify Investment Team will be working hard for you to optimise the performance of your Plan. We'll keep in touch about any changes we make to your investment mix, and you can check how your Plan is doing, day or night, with the app or on the website.
We hope that you are as delighted with our investment results as we are and that you will continue your investment journey with us for years to come.  
_________________________________________________________________________________
Please remember the value of your investments can go down as well as up, and you could get back less than invested.

* 'Simulated' returns are so named as they are based on the performance of a model which identically mirrors the decisions we take on customers' Plans. It is based on an account size that is over £500 and assumes that our maximum Wealthify fee of 0.60% is taken, as well as underlying fund costs. Individual customer returns may deviate slightly from the model figures, particularly those customers who may have added to or withdrawn from their Plans throughout the year or have a different fee rate.