Want to take control of your finances and make your money work hard? Individual Savings Accounts (ISAs) could help you achieve those goals. ISAs are a little gift from the UK government to encourage Brits to save or invest more. Introduced in 1999, ISAs have seen their popularity rise over the years as people enjoy their tax-efficient status. Here's what you need to know about ISAs before you get started.
What is an ISA?
A tax-efficient way to save or invest
ISAs are a great way for UK residents to save or invest up to £20,000 tax-efficiently each year. In other words, when you start an ISA, you don't pay personal tax on interest you earn or returns you make. As a result, holding an ISA can help bring your life projects to life.
A diverse world
The ISA universe is rather varied as there are many kinds of ISAs. The 4 main ones are Cash ISAs, Investment ISAs (also known as Stocks & Shares ISAs), Innovative Finance ISAs, and Lifetime ISAs. You can only open one of each type in the same tax year. Also, to start one of these ISAs, you need to be a UK tax resident and you should have some of your annual allowance left to use. You can start a Cash ISA if you're 16, for the 3 other ISAs, you need to be at least 18 years old.
4 types of ISAs
Cash ISAs
Cash ISAs allow you to save money without paying any tax on the interest you earn and can be a good way to put money aside to cover unexpected expenses. However, holding a Cash ISA when inflation outpaces most interest rates isn't always the best route to grow your finances over the long-term. In such climate, the money you put in a Cash ISA can see its value decrease, meaning it's not working as hard as it could.
Investment ISAs
If you have some cash in an easy-access savings account for financial emergencies and you're willing to take an element of risk in pursuit of potential long-term financial growth, you could start paying into an Investment ISA. With an Investment ISA, your money is invested in stock markets and you don't have to pay any tax on capital gains or income you earn. Although there isn't any guaranteed return rate, holding an Investment ISA can provide you with inflation-beating returns over time and help you fund your long-term projects, like buying a house or preparing your children's futures.
Learn more about investment ISAs
Investment ISAs & Cash ISA, how have they performed last tax year?
Innovative Finances ISAs
Innovative Finance ISAs lets you lend money to approves individuals and business via an online Peer-to-Peer lending platform. Put simply, you act a bit like a decentralised bank for them. Your borrowers commit themselves to reimburse you and pay you tax-efficient interest.
Lifetime ISAs
Lifetime ISAs are a great tax-efficient way to buy your first house. If you're under 40 and want to enter the housing market, holding cash, investments or combination of both in a Lifetime ISA could help you achieve this goal. Keep in mind that you can only put £4,000 per tax year in a Lifetime ISA and you can receive a 25% bonus from the government provided you meet the various conditions.
Not sure which ISA to select? Here are some tips to help you make up your mind
ISA allowance
What is it?
Contrary to traditional savings accounts and general investments where you can put as much money as you want to, ISAs come with an annual threshold you can't exceed. The amount of money you can put in an ISA is limited to £20,000 for the current tax year. Remember that a Lifetime ISA can only be funded up to £4,000 per tax year. You have until midnight on the 5th of April to use it or you'll lose it when the new tax year begins. So, make the most of your annual allowance before it's too late.
How to use it?
The way you use your annual ISA allowance is up to you. You can either put everything in one ISA (except Lifetime ISA) or you can split it between a number of ISA accounts. For example, you could put £20,000 in an Investment ISA, or you could save £5,000 in a Cash ISA for this rainy day, £11,000 in an Investment ISA to top up your retirement pot, and £4,000 in a Lifetime ISA to buy your dream house.
Also, using your ISA allowance at the start of the tax year can be a good idea to make your money work harder. Indeed, the earlier your put money in an ISA, the longer it will be exposed to interest rates or potential market growth and the longer it might benefit from compound interest. 
What you need to know about your annual ISA allowance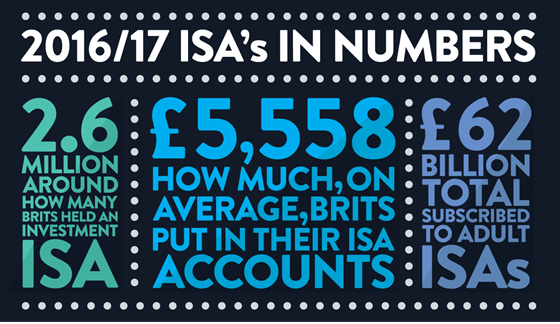 Source: Office of National Statistics
5 reasons to choose a Wealthify Investment ISA
Investing for everyone
No need to be rich to open a Wealthify Investment ISA. You can start with as little as £1 and top up your ISA regularly with small sums.
Effortless investing
Not confident enough to choose your investments or just too busy to analyse market data? Don't worry, Wealthify does the hard work for you. All you need to do is choose how much you want to invest, how long for, and the risk level you're happy to take. Based on your investment style, our investing experts select your investments, build your portfolio and keep it on track.
Access your account 24/7
With Wealthify, you remain in control as you can access your Plan 24/7, online and using our app for iOS and Android. You can check the growth of your Investment ISA both in value and percentage, and you can have a look at your diverse transactions.
Low fees and no hidden costs
Wealthify makes investing affordable as our annual fees are kept low. When you start an Investment ISA, we charge an annual management fee covering what we do which is never more than 0.7% and can be as low as 0.6% if you put over £15,000 in your ISA. Also, we buy investment funds which incurs a charge of typically 0.18% per year directly taken by fund providers.
Your money isn't locked away
Flexibility is at the core of Wealthify. You can withdraw money when you need to, without penalty. However, due to the up and down nature of stock markets, investing is more likely to deliver better returns over the longer-term.
[Video: How to start an ISA]
Transfer to a Wealthify ISA
Why would you transfer?
With the ISA limit increased to £20,000, now may be a good time to consider putting some of your money in an Investment ISA:
Use part or all of your ISA allowance to save tax-efficiently in an Investment ISA for a chance of better returns.
Save money on fees - you may be paying higher fees for your other investment ISAs and could save if you consolidate
Your money won't be locked away, you can withdraw or transfer it at any time
How do you do it?
You can transfer any cash ISAs or investment ISAs (aka stocks & shares ISAs) you have with other providers to Wealthify
Transferring ISAs from previous tax years doesn't impact your current ISA allowance at all, so you can still put up to £20,000 into an ISA this tax year. However, if you want to transfer an ISA you've paid into this tax year, you have to transfer the whole amount, and it will count towards this year's ISA allowance
Within your Wealthify ISA, you can set up as many different ISA Plans as you like, both for transfers in and for this year's ISA allowance
When you transfer an ISA to Wealthify, you should always use the official ISA Transfer Form to retain the ISA tax benefits
The tax treatment depends on your individual circumstances and may be subject to change in the future.
Please remember the value of your investments can go down as well as up, and you could get back less than invested.